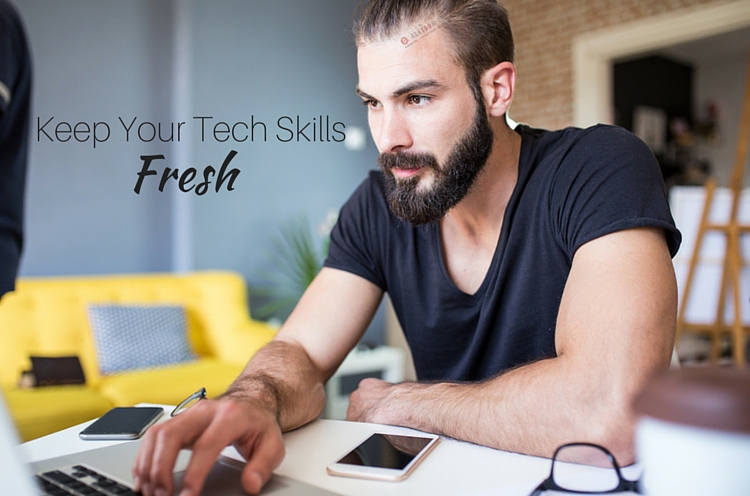 5 Tech Skills of Highly Productive Entrepreneurs
There's no doubt that technology can play a significant role in improving the productivity of modern-day entrepreneurs. Of course, using technology is not enough. Today's digital entrepreneurs must also be willing take the time to find and learn how to use the right tech tools and to improve their tech skills.
And, there are lots of other qualities business owners (and their teams) need to lead successful companies. There's the drive, passion, and confidence you need to create something valuable and sustainable from the ground up. You also need strong leadership and decision-making skills as well as the ability to focus on priorities (sometimes several at a time).
So, where do tech skills come into play? And, why are they so important?
Pin this post to your "Productivity" board
5 Tech Skills of Highly Productive Entrepreneurs
Today's entrepreneurs and freelancers know that managing a company without any sort of help would likely be very foolish. That can be help from people, like virtual assistants. And, often, it also means getting help from a few gadgets and tech tools.
Tech tools and the ability to use them well are super important because this is what gives the small business owner almost equal footing with larger corporations. Keeping your tech skills fresh and current can also help you to be more productive and more competitive.
Check out these five tech skills that every entrepreneur should master.
Keeping your tech skills fresh and current can help you to be more productive and more competitive. #smallbusiness #productivity #entrepreneurs #tech Click To Tweet
1. The Cloud
If you've ever forgotten an important document or left your portable hard drive that has an important client presentation on it in your office, you totally understand the pain of not using the cloud.
If you're a blogger with a deadline to publish and the draft of your post is on the thumb drive on your desk, you're likely to be in a panic. But, if you use cloud-based tech tools, you can use any device anywhere to write your posts.
Don't lose face or come across as unorganized to your clients. And, don't cramp your productivity style. Use cloud tools like Evernote, Google Drive, Dropbox, or Microsoft 365 to store (and even edit) your documents even when you're on the go.
You won't have to be tethered to your computer to easily access your business documents. In fact, they will be right at your fingertips within seconds. How cool is that?
Tech Skills Homework
Watch: Cloud Computing in 6 Minutes by Simplilearn (see video below)
Download: Evernote (yes, you can actually download it) and start writing a blog post or client proposal
Upload: Three business documents to your Evernote Professional (referral link) account or Google Drive
Pin this post to your "Productivity" board
2. Graphic Design
If you're a blogger or social media user, you know how important it is to use images in your posts and updates. Juicy, creative images can get more clicks and even make your blog content seem more credible.
So, now you know you need to use them. But, you also need to know how to create and edit them so they look professional without breaking the bank. Apps like Canva, Picmonkey, Wordswag (iOS | Android), and PicsArt Photo Studio (iOS |Android) can help.
These tools are simple and easy to use. This means that they won't take a lot of time to learn and you can get started with creating fabulous graphics straight away.
Tech Skills Homework
Watch: Graphic Design Tutorials (Canva)
Create: Design an animated graphic quote using Canva (see video below)
Upload and Edit: Add your logo to an image using Picmonkey
3. Communication
You can have a killer product or service, but if you can't effectively communicate your brand message to others, it will be all for naught.
Communication comes in a variety of forms. There's the stuff that lands in your inbox, there's e-mail marketing and social media engagement. And, you have to take care of and stay in touch with your most loyal clients.
Let's not forget about your internal clients — the members of your team! They are super important to the success of your business, so regular communication with them will be essential. You'll also have to remember to stay in close contact with (no, not micromanage) those who are on your virtual team.
Tech Skills Homework
Test: Use Skype, Zoom, Join.me, or Google Hangouts for your next virtual meeting (remember to record!)
Create: Write e-mail templates for inquiries or messages you receive often (Gmail or your email client)
Create: Develop a communication schedule for leads and current clients and add it to a business notebook in Evernote (referral link)
4. Blogging
So, when you think about it, blogging is another form of communication you should focus on. This form of communication is not for the faint of heart or the quick money scheme peeps.
When you start blogging, you should be in it for the long haul. Why? Well, blogging helps you to build trust with prospective clients while sharing high-quality and valuable information. That trust thing doesn't happen overnight, so you have to keep at it and find the right mix of content that your readers like.
Sure, there are other bloggers out there, but they're not you. You have your own voice and your own way of explaining things. And, yes, it does take time. So, come up with a plan of attack, ways to blog faster, and think about:
Topics to write about
Writing and publishing schedule
Graphics creation (see #2 above)
Guest bloggers and guidelines for them
Keeping your tech skills fresh and current can help you to be more productive and more competitive. #smallbusiness #productivity #entrepreneurs #tech Click To Tweet
Pin this post to your "Productivity" board
Tech Skills Homework
Brainstorm: Use a mind mapping tool like MindMeister to brainstorm topics (see video below)
Plan: Use an Editorial calendar (or this WordPress plugin) to help you plan your content
Read: Learn about lead magnets you can create using content you already have (Hubspot)
5. Virtual Assistance
Think you can go it alone without any help? Yeah, well, let's do away with that silly way of thinking right now. You're going to need help at some point.
You might start off by getting feedback from trusted friends about your business idea. Or, you might assemble an advisory board. Other people who can help you include bookkeepers, copywriters, web developers, photographers (you do need a great headshot), and more.
And, you'll need help for the little (but big things) so that they don't fall through the cracks. Things like doing keyword research, editing blog posts, scheduling appointments, creating digital products, creating social media covers, etc.
You won't be an expert in everything and you certainly won't have time to do it all. You can try, but you'll likely burn out or pull your hair out. Neither are good options, right?
Instead, find a helpful and skilled virtual assistant to help you get more accomplished.
Tech Skills Homework
So, now it's time to polish your tech skills so you, too, can be a highly productive entrepreneur. Which tech skills homework will you tackle first? Any other skills you need to brush up on?
Pin this post to your "Productivity" board
---
Take the Tech Skills Challenge & Level Up!
10 Apps in 10 days! Get more comfortable using apps to help you brainstorm, connect with your team and clients, stay focused, and even have fun! Click here to get started.