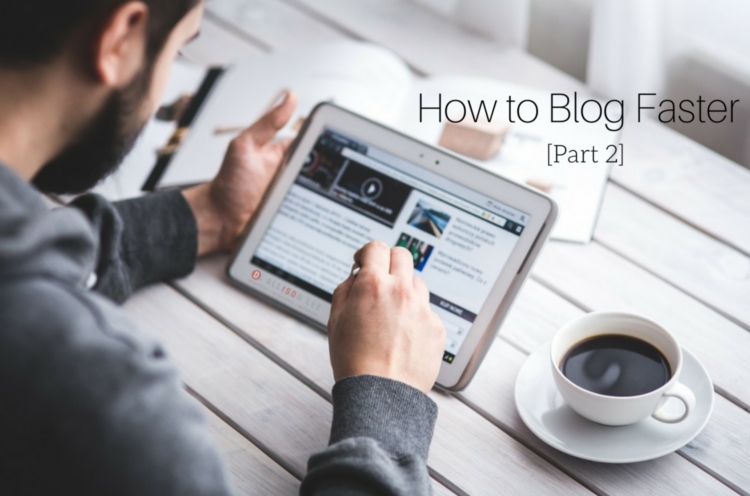 Blog Faster: How to Speed Up Your Research [Part 2]
As I mentioned in Blog Faster: What to Do Before You Start Writing Your Blog Post [Part 1], blogging is a multi-stepped process (including research) that can take up quite a bit of time. Over the next several weeks, I'll be sharing tactics and tips that you can use to help you be more efficient when blogging. See the first installment in this series (if you haven't already), and then take a look at what you'll learn by the time this "Blog Faster" series concludes.

There many blogging tips and processes to help you be more efficient when writing your blog posts, and I'll be sharing them in four parts. In the end, here's what you'll learn:
1. What to do before you start writing your post
2. How to speed up your research (This post!)
3. How to keep graphics from sucking up all of your writing time
4. How to save time when writing (featuring the one tool every blogger should use)
So, on to part two.
How to Speed Up Your Research
While research isn't writing, it is a very important part of the blogging process. Without it, you won't be able to validate your points (unless you're writing an opinion piece). Researching your topic will also help you learn about it in more depth, develop your thoughts within a larger context, and help you find content to back up any claims you make in your post.
If there's no system to how you handle the research portion of blogging, you might find yourself getting bogged down and caught up in many fact-finding activities that may not be relevant to the current post you're writing. That can be a total time-suck, so here are …
Questions You Should Ask Yourself
How do you currently do your research?
Are there particular websites that you visit to get more information?
Do you research your blog posts individually or do you research several at once?
What type of research will you be doing: hard, soft, or both?
The Difference Between Hard and Soft Research
No matter what supporting data (like stats, studies, scientific reports, videos, infographics, GIFs, slide decks, quotes, or articles) you use for your blog posts, you should figure out if you need to do hard or soft research. Depending on the type of research you choose to conduct, it can be time-consuming or it can be less taxing.
So, what's the difference between hard and soft research?
Hard research relates to facts, statistics, and figures. This data has to have been proven and have the cold, hard numbers to back up any claims.
According to About.com:
In hard research, the credibility of every resource must be able to withstand intense scrutiny."
That means that it will be looked at very closely by your readers, so it has to be on point.
On the other hand, soft research is just that — soft, fuzzy, mutable — and not hard, firm, verifiable, like statistics. It's used when a piece you're planning to write is opinion-based and subjective. From About.com:
Soft research depends less on facts and evidence and more on the presentation skill of the researcher. Soft research sources will be less scrutinized by the readers."
You can also use a combination of hard and soft research (or hybrid research) when you're crafting a blog post.
Now that you know about these three ways to gather data to support your content, you'll need to figure out which one you'll rely on most often.
If you come to a section of your blog post that needs supporting data, highlight it and keep writing! #bloggingtips #timemanagement #research #productivity Click To Tweet
Which Type of Research  Takes Longer?
As you probably already realized, hard research will likely take more time to complete. That's because this type of information needs to be looked at carefully, and must be accurate. Making sure you have accurate and credible data may take longer for you to accomplish, and you may need to find multiple sources.
You can cut down on research time by writing content that requires more soft research. If the piece you're writing is through your own eyes as a blogger and is based on your experience, you'll likely find that your research time will be significantly reduced.
For example, you can share your experience using a specific product or service. Since you'll be writing about it from your perspective, very little hard research, if any, will be needed.
Which Type of Research Do You Really Need?
You may want to include the results in the form of numerical data. For instance, if you're sharing your experience using a lead capture tool, you will probably need to include hard data, like how many new e-mails you received from using XYZ pop-up form over a specific period of time.
You'll need to take time to test and record your findings, and keep in mind that how you present the data will also take some time to consider. Will you use charts and graphs? Screenshots? Will you create and embed an infographic in the post?
So, think about the type of research you need to use. What does your audience tend to prefer? Knowing ahead of time which type of research you will use for individual posts will give you time to plan or, at least, give you enough time to hire someone — like a virtual assistant or someone on Fiverr — to help you get the research done.
What About Keyword Research?
Let's not forget that there's another type of research that you will need to do, and that's keyword research. Think of your keyword – the main word around which you will build your post – as the search term that your target reader is most likely to use when looking up your topic.
If you want your content to get found, it's important to find the right keywords. So, build this in your research process and use the tips below to save a bit of time.
Time-Saving Tips When Researching
Stay focused.  There are times when you need to dive into research and gather lots of credible facts. And, there are many times when you should just grab the specific statistic that you need and just move on instead of taking a deeper dive. So, focus!
Use a Timer. When researching — just like when you're writing your post — set a timer to stay on track and to let you know when to take a break.
Highlight areas that need research. If you come to a section of your post that needs supporting data, put in a note, like [RESEARCH] or [STATS NEEDED] or [HELP!], and then go back to those areas when it's fact-finding time. You can also change the color of the font for that section so that it's very visible. That way, you won't waste time looking for the sections of your post that you need to verify.
Set up Google Alerts. Set up Google Alerts so that you can get pinged whenever information about relevant news (or people) is published. Getting the alerts sent to you automatically means that you won't have to go searching for it. Two words: time saver.
Keep a running list. You can also shorten the research process by creating a list of go-to resources that you can continually add. Evernote, Trello, Asana, and other project management tech tools can help you capture this information so that you don't have to go on a scavenger hunt every time you need it.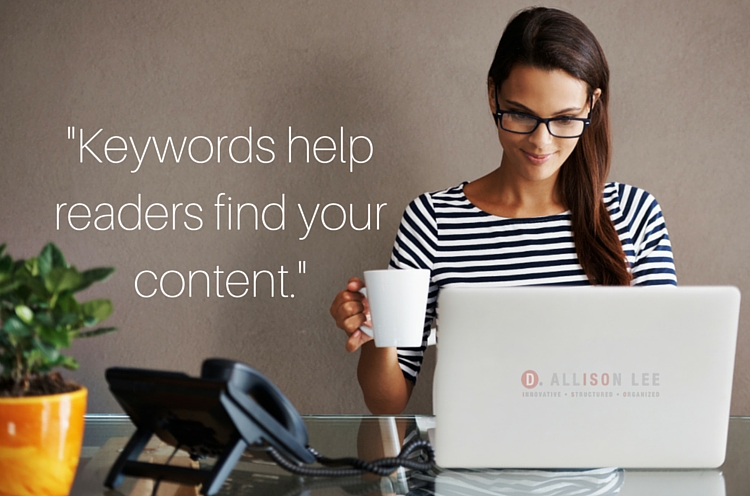 Research Resources
To help you get started and to save a bit of time, here are some blogging research resources you can throw into your digital notebook until you need them:
Hard Research
Keep a list of websites you can refer to easily:
Soft Research
You should also keep track of where you can capture softer information, like quotes and music clips:
Pinterest and Tumblr can be goldmines for finding graphic quotes. Just be sure that you are allowed to use the image before placing it on your site. The same goes for sound clips. Of course, you can always make your own graphic quotes using Canva (like I did with the image above).
Blog Faster: How to Speed Up Your Research #blogging #productivity #productivitytips #bloggingtips #timemanagement Click To Tweet
Keyword Research
Keywords help readers find your content, so researching them and finding the right ones will be a good use of your time. Here are some tools that will help:
Traffic Travis. This software is free to download and can be used for checking how your site is doing on the SEO front. Traffic Travis can also help you generate a large list of keywords. Use the free version or go with the Professional account for $97 per year.
Wordtracker.com. Wordtracker will give you related words and phrases that have been recently typed into search engines by real people. It will also show you how much competition you should expect for each keyword. Try it for free for seven days before moving on to one of their paid plans ($27-$99 per month).
Google Search. You can also keep things really simple and see what Google auto-suggests when you type a keyword in the search bar. The drop-down suggestions can give you ideas for new blog posts by giving you a peek into what your target audience wants to know more about.
Google Trends. Use Google Trends to find which search terms or topics are most popular across a variety of languages or areas. Enter a keyword or topic you have in mind to see how often it comes up in searches.
Ubersuggest. This free keyword tool will give you a gazillion (yes, a gazillion) keyword suggestions. Ubersuggest will take your keyword and add a letter or number in front of it to generate a mega-list of keywords from real user searches. It doesn't get any better than that.
Shorten the research process by creating a list of go-to resources that you can continually refer and add to when writing your blog posts. #bloggingtips #research #timemanagement #productivity #productivitytips Click To Tweet
Final Thoughts
It's easy to get sucked into fact-finding and you might get overwhelmed by too much information. If you find that you do need to spend a little more time on a particular topic, keep yourself honest by using a timer or audible alert to keep you from getting sucked in. And, if you decide to do a bit more research, set the timer again!
Remember to bookmark your favorite sites or throw them in Trello or Evernote for safekeeping. Use some (or all) of the tips above to create a research workflow that syncs with the way you think and that will be easy for you to keep up with.
I tend to do research for individual posts, but you might choose to do batch researching and gather data on several topics during the same research session. There's no right or wrong way to do this. That said, whatever you choose to do, be sure that you're organized and that you have a research plan.
Up Next
Next in the "Blog Faster" series is: How to Keep Graphics From Sucking Up Your Writing Time. As with research, adding graphics isn't writing. Nonetheless, it's a core activity and essential to keeping your readers engaged.
Have any questions, comments, or tips of your own? Share them in the comments below.