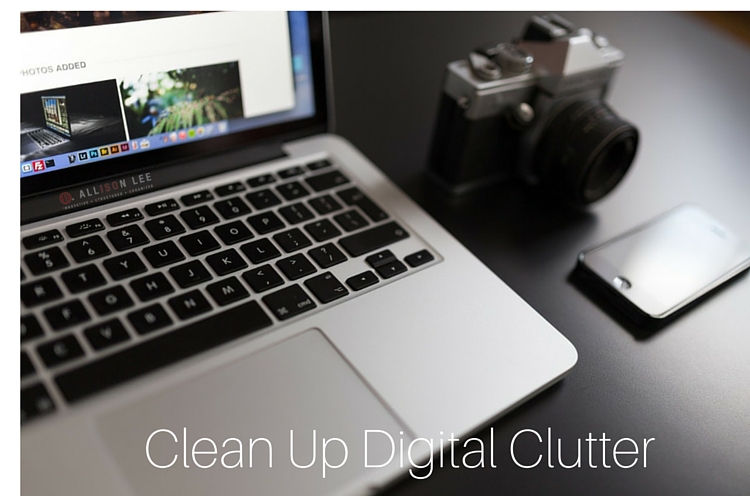 Use The "Clean Computer Calendar" by @SingleHop to Clean Up Digital Clutter
*This post was updated September 10, 2015.
I was recently sent this Clean Computer Calendar and thought it was worth sharing with you!
It's a great guide to follow from SingleHop (a cloud computing company) in order to conquer that digital clutter in a short amount of time. I've explained some of their advice in more detail below and added a few of my own tips. Happy digital organizing!

How to Clean Up Digital Clutter
"Create an easy-to-use system to organize your computer's folders."
I do this by creating folders that are very general and then have sub folders within each of them as necessary.
For example, I have a folder on my desktop for Brisket (our dog). Inside that folder are sub-folders labeled Photos, Videos, Insurance, and Pet Sitter. Obviously, there are photos in the Photos sub-folder and videos in the Videos sub-folder.
Inside the Insurance sub-folder is the claim form PDF I can print out if I need to. In the Pet Sitter sub-folder is the MS Word document I keep with instructions for our pet sitter like emergency contact information.
Other general folders on my desktop include one for my husband, one for our wedding, and one for my business. Within each are documents categorized into sub folders. It's very easy to find what I'm looking for, and it's also simple to keep my desktop clear since I know exactly where new files should go.

"Organize photos into folders."
The easiest thing to do is to sort photos into folders by year and then into sub folders by month or event. Getting too caught up in the naming convention of photos will lead to confusion, feelings of overwhelm, and then procrastination.
Just keep it simple.

"Research secure cloud storage options and external hard drives/storage devices."
I recommend both of these things as well. It's important to have a back up at home and to have a back up in the cloud, so that you're covered in the event of any type of disaster.
I use CrashPlan (and Deb likes Carbonite ← that's her affiliate link) to securely and automatically back up everything on my computer daily. I use a Lacie external hard drive (affiliate link) to manually back up my digital life at home a few times a year.

Here are a few other things I personally recommend to keep your computer clutter-free.
Don't forget to empty the trash can. You take the garbage from your kitchen out regularly, right? You should do this for your computer, too. It frees up space on your hard drive and keeps things running smoothly.
Delete old documents. The one or two occasions a year that I manually back up my files to my external hard drive is also the time when I take the extra few minutes to delete documents I no longer need. This includes things like ebooks that I downloaded, read, and won't refer to again — or photos that I really don't need to keep.
Clean up your desktop once a week. When application windows are left open, it's tough to remember that there are a bunch of downloaded documents still floating around on your desktop. Once a week or so, close your applications (which is good for your computer anyway), and assess what's on your desktop. Delete the unnecessary and file the archives in the folders and sub folders that you set up. I like to do this on Friday afternoons, so that when I come back on Monday morning I have a clean desktop and a clear mind.
Now, let's drill down and focus on your next action steps.
Either print out the Clean Computer Calendar as a visual reminder to check off, or simply add the task items from the Clean Computer Calendar to your calendar.
Then, schedule some time to perform each task and stick with it. Your computer will be clutter-free in no time, and it will feel great!
Over to you …
Now, I'd love to hear from you. How do you stay on top of your computer files? What's your system for keeping the digital clutter at bay?