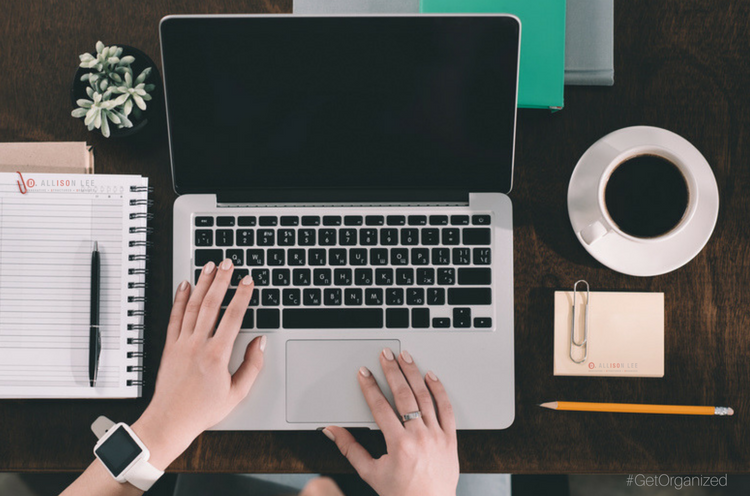 Get Organized Month: Digital Declutter Campaign
January is National Get Organized and Be Productive Month (GO Month), a global campaign geared to help "individuals, families, and businesses regain control over their surroundings, time and possessions." Not surprisingly, the start of a new year is usually when many of us reflect on the past 12 months and also look ahead to the coming year.
As I look back, I'm super stoked about several accomplishments last year, like …
… making some cool tweaks to enhance the D. Allison Lee site (like the contact form … I love it!).
… moving the needle on my productivity program in the midst of much chaos and change (look out for more deets soon!).
… and starting two new ebooks with one of my favorite peeps (woot!).
I also started a partnership with digital asset management firm, Bynder. What's so special about that? I'm glad you asked!
First, I love learning about new services, especially ones that can help small business owners boost their productivity. And, if there's technology involved, I will almost always give them a second look.
Well, I lucked out with Bynder because it's a service that can help you organize and easily find your digital files. Bynder also recently launched a forever-free file management tool called Orbit. Cool name, right?
A service that can help me (and my clients) organize my digital stuff? Another app that I get to play around with? How could I say no when they reached out to me about teaming up? It was an easy decision to jump on board.*
Get Organized Month: Digital Declutter Campaign
In honor of GO Month, I'll be working with Bynder on a Digital Declutter Campaign. I'll be sharing lots of strategies to help you clear out your clutter hot spots so you can focus on your priorities and important projects.
Here's what we have planned to help you start the new year off on the right foot:
1. Productivity tips: 5 things you do immediately to start controlling clutter
First, you'll get some of my top productivity tips. These are simple things you can do right now to manage your digital (and physical space), like:
Create a home for everything (yes, everything!)
Everything you own—including your digital files—should have a specific storage location that is easily recognizable. If everything has a home, you can cut back on having to endlessly search for things you need. Of course, once you designate a location for each item, you will need to stick to that structure. Every time. Otherwise, it's a slippery slope back to cluttered chaos you're trying to get away from.
Using labels is a great way to avoid those never-ending searches both for your physical and digital spaces. You can use labels on desk drawers or cabinet doors to remind you where you put certain items. These days, you can also handily tag your digital files with keywords to quickly find what you're looking for (i.e. find an image of a beach by filtering results with keywords such as 'sand' or 'sea').
Head over to the Bynder blog to get the other four tips and so you can get started now.
2. Webinar: How to conquer clutter and boost productivity
Once you've read the blog post, you'll want to sign up for the free webinar, Get Organized: How to Conquer Clutter and Boost Productivity on January 25th at 11:30 am ET.
During the webinar, I will review specific, easy-to-follow steps you need to take to finally kick clutter to the curb and get more accomplished. If your physical and digital spaces are in a jumble, join us to learn how you can get back on track.
Attend the live webinar to learn how to:
Keep your workspace organized
Manage paper and digital files
Use tech tools to keep you on track
Conquer clutter for good!
3. Twitter chat: Ask Me Anything (AMA)
Still have questions? Not sure where or how to start? Come hang out with us on January 31st for a Twitter AMA and literally ask me anything about how you can get more organized and kick your productivity up a notch.
4. Recap: Key strategies from the Digital Declutter Campaign
If you missed anything from the Digital Clutter Campaign, no worries. I'll recap some golden nuggets and key takeaways from the month. And, if you want to reach out to us before the end of the month rolls around or just to check in, you can find us on Twitter at @DAllisonLee and @bynder.
That's it for now. Happy Get Organized Month and here's to an amazingly productive new year!
*Many thanks to Bydner for collaborating with me on the Digital Declutter Campaign. Though I am being compensated for my work on the campaign, all suggested productivity tips are my own. I've used these strategies myself and with clients — and I'm excited for you to give them a try to see how they work for you!