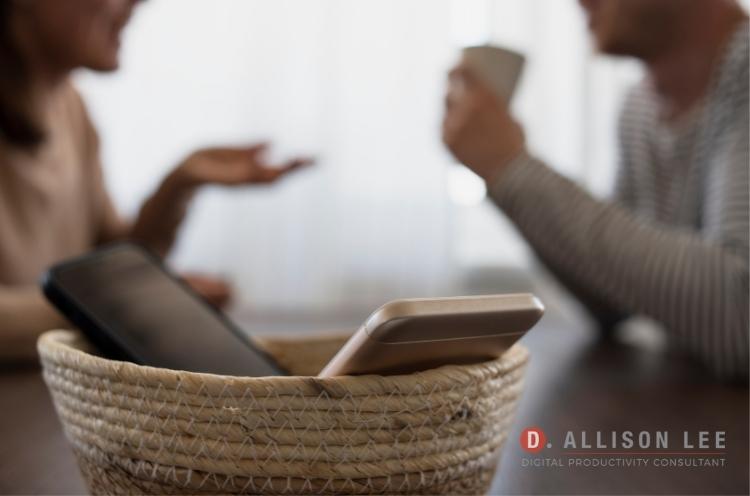 I Broke Up With My Phone for 24 Hours. Here's How I Handled It.
Recently, I posed this question to my friends on social media: "Are you addicted to your mobile phone?"
It's no secret that many of us are very attached to our phones — so much so that we'd give up many creature comforts and basic needs (like showering and eating) just to have our phones close by.
To test how connected we are to our own devices, my podcast co-host, Cris, and I decided to see if we could part ways with our phones for an entire day. We picked the day of the week we would take the hiatus and then invited our podcast listeners to join us for our "No Phone Sunday" Challenge.
So yes, I really did stop using my phone for 24 hours. Keep reading to hear how I handled it.
Smartphones have provided us with a virtually unlimited supply of social stimuli, both positive and negative. Every notification, whether it's a text message, a "like" on Instagram, or a Facebook notification, has the potential to be a positive social stimulus and dopamine influx.
What I Did to Prepare
Cris and I decided to do the "no phone" challenge on a weekend. We picked Sunday because it would likely be the best day for us to put our phones away for an extended period of time. Usually, there are fewer (or no) work tasks that would require picking up the phone.
Still, I knew that since I rely heavily on my phone for several personal and business tasks, it was important to come up with a game plan to make the 24-hour phone fast go as smoothly as possible.
Here's what I did to prepare:
Turn it off. My plan included turning off my phone the evening before. That way, there would be no notifications to tempt me to even pick it up.
Put it away. Out of sight really can mean out of mind. I figured if I didn't see my phone, I wouldn't pick it up out of habit. So, my plan included tucking it away in a drawer the evening before the challenge.
Tell my people. I knew that I had to tell my core group of people about "No Phone Sunday" so they wouldn't be worried if they didn't hear from me.
Go old school. Could I still get things done with my phone? Absolutely! And that meant I would need to use paper and pen (just like I used to) to make a to-do list or capture ideas. I also knew that I wanted to identify and make a list of all the times I would instinctively reach for my phone and why.
Make a list. I made a list of things I could do without my phone. Yes, doing laundry was one of those things, unfortunately.
"No Phone Sunday" – How I Handled It
Overall, "No Phone Sunday" was a success! That said, I experienced a range of emotions and made several observations about myself as I navigated the world without one of my favorite pieces of technology in my back pocket.
The Good
The morning of "No Phone Sunday" started just like any other Sunday morning and it seemed to get off to a good start. I don't usually set an alarm on the weekends so my first action was not to grab my phone.
And, I knew the night before that I wouldn't be able to use my meditation app as I would normally. So instead of doing a guided meditation (which usually lasts from 5 -15 minutes) using the FitBit (App Store | Google Play) or Balance app, I had 1-2 minutes of quiet time and deep breathing on my own before I got out of bed.
I live with or am around most of the special people in my life, so my day felt like a regular Sunday. There was the usual flurry of activity and discussions about what we'd be doing and where we'd be going.
I was happy, especially during the top half of my day. I even found that without the distraction of my phone, I was able to start and finish tasks more efficiently. No phone meant no shiny, pretty apps could tempt me into getting sidetracked.
Could you give up your phone for 24-hours? #digitaldetox #phoneaddiction
Click To Tweet
The Bad
Well, perhaps not "bad," but the day was not without its frustrations. I experienced phantom vibrations in my back pocket even though my phone was tucked away in a drawer. And, I found myself reaching for my phone (yes, same back pocket). A LOT.
Each time I thought about or reached for my phone, I wrote down what I would have used it for. Here's my list:
Practice deep breathing/meditate
Record my weight
Log my food
Buy groceries
Create a to-do list
Add tasks to Basecamp
Book a flight
Listen to an audiobook
See better (magnifying glass) *This app is a time-saver, especially when reading food or medicine labels!
View health stats
Check and send text messages and emails
Use my language learning app
Lock and unlock my car
Turn on/off all home automations
Check sports score
Read the news
Set alerts, alarms, and reminders
Take pictures
Browse social media
Complete online purchases
And the (Sorta) Ugly
I also noticed that my mood changed toward the end of the day. To be honest, I was a bit salty and testy at times. I know at first glance it might seem that this was a result of not having my phone. But, perhaps that's not the only reason.
Meditating, walking, and reading combine to make a powerful mood-boosting cocktail for me. Without access to my app, I didn't meditate as much as I would have normally on "No Phone Sunday." And because I wasn't able to listen to my audiobook (thanks to Libby or Audible) while I walked, I didn't get as much movement in my day.
Either way, whether my mood soured because I was experiencing phone withdrawal symptoms or because I couldn't tap into my happiness routine (or both), it was an interesting observation. And it made me think about how I could be less reliant on my phone for those two specific activities.
The Streaks and Loopholes
Not having my phone didn't stop me from getting some things done. But it was next to impossible to practice Spanish without my app. This might seem like a little task that I could have just ignored for the day. But I have a pretty nice streak of over 365 days of regular practice. I was not about to break the chain!
So my loophole was my laptop.
I didn't want to derail "No Phone Sunday," so I followed some self-imposed guidelines around using my laptop.  I decided to limit my:
Activities. My first limitation was to pick only ONE thing to use my laptop for, and that was to practice Spanish only. No Google searches. Or checking email. And certainly no Facebook, Instagram, or Twitter surfing. Spanish was my focus and nothing else.
Time. I also decided I would only use my laptop for a short amount of time. That way, there wouldn't be enough time for me to do anything else. I aimed for 10 minutes of Spanish practice and stuck with it.
Final Thoughts
Based on this one-day experiment — and with the "bad and (sorta) ugly" parts of the day — I would do "No Phone Sunday" again. That's because we all need a "tune-up" every now and then.
We forget the lessons we've learned. Sometimes life gets in the way and we slip into old habits that don't serve us well. Participating in challenges like this can help us to be more mindful and more productive in the long run.
So the next time I put my phone in time out, I'll make a few changes.
Here's what I would do differently:
Do some of the "I always use my phone for this stuff," like buying groceries the day before. Of course, I could just take a trip to the supermarket. Novel idea, right?
Prep my peeps a little more in advance so that they could get used to the idea of me being unavailable by phone or unable to do some task for them that required my phone.
Here's what I'd keep the same:
Stick with Sunday because there's little to no work required on this day for me.
Use my "no phone" time to connect with other human beings. Particularly the ones who make me laugh.
What about you? Would you attempt to go a few hours or 24 hours (or more) without your phone?