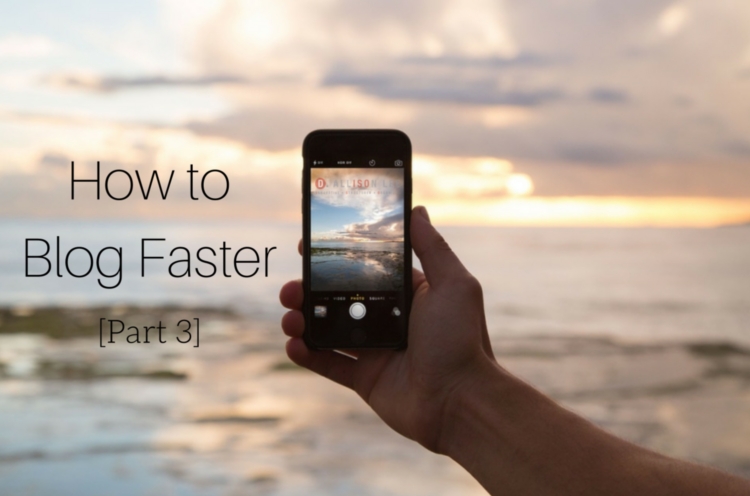 Blog Faster: How to Keep Graphics From Sucking Up Your Writing Time [Part 3]
Are you including graphics in your blog posts? You should! Adding images to your posts is another step in the blogging process and a very important one at that.
In this third installment of my Blog Faster series, I'll share with you ways you can quickly find and edit eye-popping graphics. See the first two installments in this series below (if you haven't already), and then take a look at what you'll learn by the time this Blog Faster series concludes.

Here's what you'll learn:
How to keep graphics from sucking your writing time (This post!)
How to save time when writing (featuring the one tool every blogger should use)
Why You Should Use Graphics in Your Posts
Graphics can add a bit of pop to your blog posts, especially if you use interesting, high-quality images. You might notice that when you read a post without images (or with stale stock photos), it may not seem as interesting.
Or, you might start scanning instead of pausing and actually reading. Your level of engagement may start to drop and then you will likely leave the blog. The scenarios I've just described have happened to me (and, unfortunately, still do).
So, yes, this is anecdotal, but if it's statistics you're after, I've got those, too. Here are three stats that indicate the importance of using visual content in your blog posts:
40% of people will respond better to visual information than plain text. (Source)
Graphics help your readers retain the information you share with them. (Source)
Publishers who use infographics grow in traffic an average of 12% more than those who don't. (Source)
As you can see, using images in your posts really is essential. They help to break up text and can give you the added benefit of keeping readers engaged and coming back for more.
When you add images to your website, this is how your readers feel!

Keep Graphics From Sucking Up Your Writing Time
Finding the right images and editing them so they look pretty can be very time-consuming. But, if you have a system place, you can reduce the amount of time needed to manage the graphics portion of the blogging process.
Below are some time-saving options for finding and editing images. Use them all or pick a few to include in your personal blogging process.
Take Your Own Photos
It can be helpful to regularly take your own photos — even when you don't have a pressing need for them. That way, you'll always have a collection of pictures to choose from when you do need an image for a specific post.
You'll also save time because instead of searching for images, you'll take the exact photo you want. No fancy equipment is needed, either. Your smartphone or tablet can easily handle this job.
Something else to keep in mind — you won't ever have to worry about copyright when you take your own photos. This is the BEST thing you can do. The photos you take belong to you, and no attribution or payment is required. And, you'll have unique photos that are perfect for your posts.
Save time by taking your own photos instead of searching for them! #blogging #productivity #timemanagement #bloggingtips Click To Tweet
Use Specific Keywords When Searching for Images
If taking photos is not your forte, please practice! And, in the meantime, consider purchasing your photos from reputable sites (like the ones below).
To save time when searching for images, you should:
Edit in Batches
One way to save some time sourcing and editing images to find and edit several of them at once. That way, you knock them all out in one sitting and all you have to do is strategically place them in the appropriate posts.
You could select a day of the week or month that you work solely on images. Of course, that means you will need to know the topics you will be writing about in advance. But, an editorial calendar can help with that.
Use a Tech Tool
You can also use a writing tool like Scrivener that has built-in photo editing features. Using a multitasking app like Scrivener means that you won't have to open separate programs to edit your graphics, so you'll save a bit of time there.
Scrivener allows you to manipulate, resize, crop, and generally edit your photo so that you can see what it's going to look like in your finished post. You can also keep files, movies, web pages, and audio files inside of Scrivener. Again, everything you need will be in one location so you won't have to switch between multiple applications.
Scrivener also lets you split the editor to view research in one pane while composing your text right alongside it in another. Give it a go by downloading the free trial.
Save a List of Photo Websites
Okay, it's broken record time. I know I've mentioned this before for any resource you find, so this is a friendly reminder that you should bookmark or save your favorite sources for images.
Keep a running list in Trello, Evernote (affiliate link), or OneNote so that you can quickly find them when you need them.
Here are some paid image sources:
Before moving on, I'd like to give an honorable mention to Canva. Canva is a multipurpose tech tool. You can use it to find low-cost pictures ($1/photo or $11/10 photos), and you can also use their blog graphic template to help speed up the graphics creation process.
With Canva's paid version, you can also save brand templates (another time-saver) and use the Magic Resize feature to quickly create graphics sized perfectly for the most popular social media sites. So, check it out and tell them I sent you!
Save Free Image Resources
There's nothing wrong with purchasing photos, but you can also find high-quality graphics that are free or cost very little or nothing.
Here are several websites that offer free images:
Those sites alone should provide you with PLENTY of images to choose from. In addition, you can search quickly for public domain images (including on government sites) by using these directory resources (and there are many, many more):
Hire a Virtual Assistant
Of course, another way to speed up the process it to hire a virtual assistant to find and edit all your images. This will save you a lot of time. This is especially true if you have to learn how to use a new tool and technology often frustrates you.  Trying to figure it out by yourself will likely take you longer to hit the publish button.
Note: Hiring someone is not a frivolous option. If you find it difficult to gather and edit graphics or you're just not good at it (even after practicing), let someone else (like a Canva Creative Expert) who knows what they're doing handle it. The money spent would be well worth it when you find the right person to help you.
Blog Faster: How to Keep Graphics From Sucking Up Your Writing Time #blogging #timemanagement #productivity #bloggingtips #productivitytips Click To Tweet
Final Word
Don't let graphics scare you. In fact, you should be delighted by them because they present you with another chance to get more SEO juice! So, use images in your blog posts and be sure to come up with a system that helps you to quickly find and manipulate them.
Up Next
The final installment in the "Blog Faster" series is: How to Save Time When Writing (featuring the one tool every blogger should use). You're armed with tips, tools, and resources for several tasks that make up the blogging process, so next, I'll finally focus on the part that some of you dread: writing!
Have any questions, comments, or blogging tips of your own? Share them in the comments below.