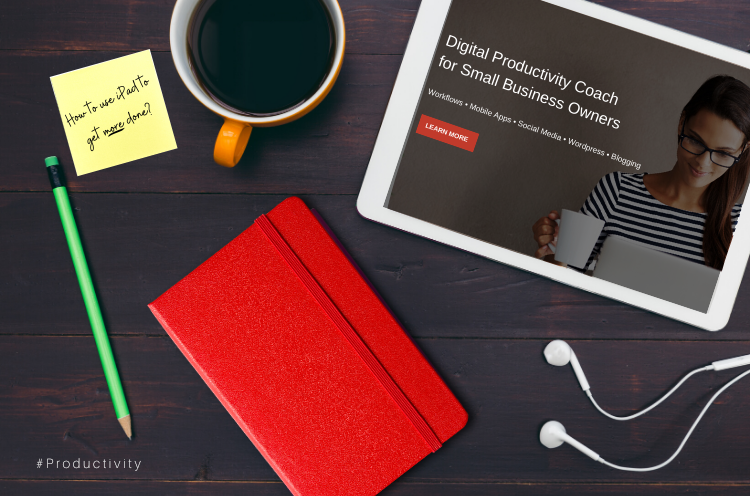 iPad Productivity: 5 Ways a Tablet Can Help CEOs Get More Done
iPad productivity. Yes, it's a thing. And, it should be — especially for CEOs and business owners who need to stay connected to their teams. It's a tech tool that can help you easily run your business and get things done whether you're a road warrior or stationed primarily in your office. Keep reading to learn how an iPad can be an effective tool in your small business toolbox.

5 Ways the iPad Can Make CEOs More Productive
Running a company and leading a team (or several of them) can come with lots of rewards. But, it's not without its challenges. You're probably juggling several things (often at the same time), brainstorming new ideas, plotting a path to the future, innovating, and keeping sight of your bottom line — all while trying to manage your time effectively.
It sounds like a lot and it is. That's where your iPad comes in. Paired with the right apps, it can help you stay focused, effectively use your time, and get things done. It also has a touchscreen so you can kiss your mouse goodbye. Ready to get started? Here are five simple ways you can up your iPad productivity game.
(Psst! Before you dive in, you should know that this post contains affiliate links. What does that mean? If you click on any of those links and make a purchase, I will get a small commission that will likely feed my growing coffee addiction!)
1. Save time with Siri (and get things done)
Are you still pecking away at your iPad's keyboard when you're replying to e-mails, completing digital forms, or editing content? Let Siri, Apple's version of a digital personal assistant, help you instead. She's much faster than you will ever be and will save you some time.
Have an idea you want to remember? Ask Siri to create a new note in Evernote. Need help with research for an important project? Just call her up using the "Hey Siri" voice command and then ask a specific question. "Hey Siri" is an actual command that you can use on any Apple device, including your iPad.
Be sure to speak slowly (not like molasses but not like a raging river either) when asking Siri for help so that she understands what you're saying.
That said, there are a number of other things you can ask Siri to do:
Read your voice and email messages
Set a reminder
Call or iMessage someone
Translate a word in a foreign language
Add an appointment to your calendar
Find a specific location
Check the weather
Calculate math problems
Ponder life's biggest conundrums, like "Why do humans exist?"
That last one isn't technically a business activity but it is a very, very interesting question to ask your digital assistant. Check out this CNET article for even more commands for Siri and click here to learn how to set up Siri on your iPad.
iPad Productivity: 5 Ways a Tablet Can Help CEOs Get More Done #productivity #techtools #iOS Click To Tweet
Save this post to your "Digital Productivity" or "Tech Tools" board
2. Conquer, collaborate, create
Your iPad is a productivity powerhouse. In fact, right out the box, there are pre-installed apps on your iPad that have your back and can help you conquer your workflow, like Apple's iWork Suite (Pages, Numbers, and Keynote) and the Reminders app.
But, you can make your iPad an even more powerful productivity tool by adding apps that can help you keep track of your priority tasks and your progress with completing them.
Toodledo, Asana, Todoist, and Trello are excellent "get stuff done" apps to add to your iPad productivity flow. You should also take a look at Any.do. It syncs with the Reminders app so you can manage all your to-do's in one spot.
You can share or assign tasks to others, so it's also perfect for teams. I have used it to collaborate with a colleague on presentations and it worked like a charm.
And, speaking of collaboration, you can create documents and presentations in real-time with your team using G Suite apps, like Docs and Slides.
Honestly, there are so many apps that can supersize your iPad that you won't run out of ways to keep your productivity momentum going.
3. Meet "face-to-face" with your peeps
Need to video conference with prospects, clients, or folks on your team? Meetings are made simple with FaceTime on the iPad. You can meet with up to 32 people using FaceTime (iOS 12.1 or later). You can also start a FaceTime call from the Messages app. Learn more here.
I know what you're thinking. What happens if the people you're trying to connect with don't have an iPad? No worries. You can use Zoom to have digital face-to-face meetings and take advantage of features like screen sharing and whiteboard collaboration. Skype is another option for virtual meetups.
Save this post to your "Digital Productivity" or "Tech Tools" board.
4. Make traveling easy
Traveling for work means that you need to keep track of lots of things — departure times, destination transfers, and yes, paper copies of all your transactions. Lots of them. For you frequent fliers, wanderers, and road warriors who generate tons of travel receipts, your iPad will be very helpful.
First, it's smaller than your laptop and you'll likely have easy access to it when you're traveling. Second, you can download an app like Scannable to digitize your papers and send them to your preferred cloud storage provider for future reference.
Need to track expenses and generate expense reports? Check out Expensify or Smart Receipts. Don't worry Android tablet users. You can jump over to Google Play to get the Android version of those apps.
5. Save your brain sparks
Have you ever noticed that you get the best ideas (like blog post ideas, new product or service offerings, innovative business ideas, and more) at the most inconvenient times? And that they usually pop up at times when you really can't delve deeper into them?
Here's some good news — You don't have to lose those amazing brain sparks!
All you need to do is save them so that when you do have more time, you can tinker with them. You can use the Notes app that comes pre-installed on your iPad. Or, you can use Evernote. It's my favorite app for capturing and storing amazing ideas and you've heard me talk about many times before (here and here and here).
I love that Evernote lets you save many types of content your notebooks:
Audio notes. Record audio of your idea in Evernote or save a previously recorded audio to a note.
Images. Quickly sketch out or mind map an idea and snap a pic of it to save in Evernote.
Docs. Attach documents and PDFs to a related note.
… and though you can add info directly in Evernote, you can email your ideas to a specific notebook. But, wait, there's more! You can also tag your notes with a keyword (like, say, "ideas" or "brain sparks") so you can easily find them. Do you see why I'm in love with this app? It's a simple, effective way to keep your best inklings right at your fingertips.
These are just a few things you can do with your tablet to help you carry out typical business activities. Remember, iPad productivity is all about combining the right apps with your iPad so that you can stay focused and consistently get the important stuff accomplished.
If your iPad is already integrated into your workflow, I'd love to hear how you use it. Jump down to the comments to share!
iPad Productivity: 5 Ways a Tablet Can Help CEOs Get More Done #productivity #techtools #iOS Click To Tweet
Save this post to your "Digital Productivity" or "Tech Tools" board.
Hey folks! This post contains affiliate links. What does that mean? If you click on any of those links and make a purchase, I will get a small commission that will likely feed my growing coffee addiction! ☕