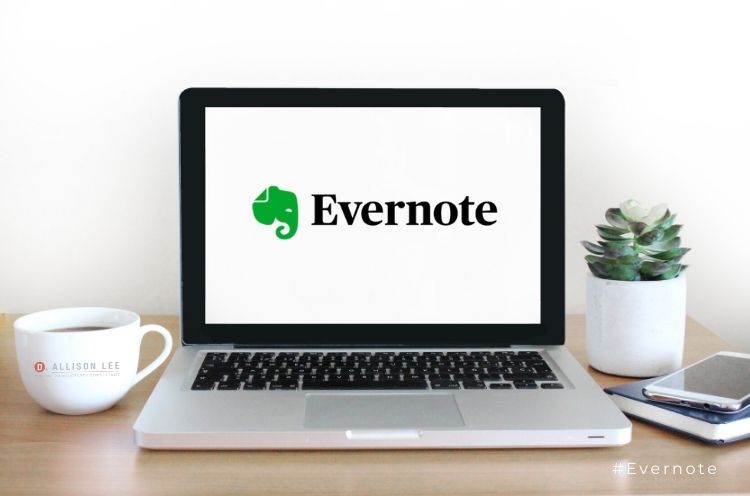 How to Create a Tickler File Using Evernote
Did you know that a tickler file can help boost your productivity? You can create the old school version or set up an Evernote tickler file instead.
And, since small business owners tend to manage a wide variety of tasks, having a system that "tickles" your memory can be pretty important. Keep reading to get started.

A tickler file is a collection of date-labeled file folders organized in a way that allows time-sensitive documents to be filed according to the future date on which each document needs action. ~Wikipedia
How to Set Up a Paper Tickler File
If you're ready to get more accomplished and need a way to make sure that important tasks don't fall through the cracks, you may want to start using a tickler file. Btw, if you want to steps to create a tickler file using Evernote, you can skip this introduction and scroll down to How to Create an Evernote Tickler File.
To set up a paper tickler file, you'll need 43 folders (yep, 43):
31 folders for each day of the month  AND
12 folders for each month of the year
You can write the days of the month or months of the year on the appropriate folder tabs, or if your handwriting suggests that you should have been a doctor in a previous life, consider using the label maker. =)
Your folders can be placed in your file cabinet or in several accordion (expanded) files. In fact, there are accordion files that come with pre-numbered tabs (for each day of the month), so you could simply purchase 12 of them.
There's no right or wrong way to manage this, so it's really up to you and what you prefer.
How to Use a Tickler File
Once you've created your 43 folders, you can then can go about the business of putting things in each of them.What can you put in the folders? Anything, really.
If you want to be reminded of a task or action that you have to take — no matter what it is — you can put that item (a note or index card with instructions or related information) in your tickler file. Keep in mind that you can put things in folders well in advance so there's no need to wait until a particular date draws near to add your reminders. 
Documents within the folders of a tickler file can be to-do lists, pending bills, unpaid invoices, travel tickets, hotel reservations, meeting information, birthday reminders, coupons, claim tickets, call-back notes, follow-up reminders, maintenance reminders, or any other papers that require future action. ~Wikipedia
At the start of each day, simply pull out the contents of the corresponding file so that you can work on that day's task(s). And, then move that now empty folder to the back of the remaining ones. That way, the next day's folder is in front and easily accessible.
At the end of the current month, move on to the first day of the subsequent month. Repeat the process until you complete all the tasks through the end of the year. Then … onward to the new year!
How to Create an Evernote Tickler File
If you'd rather use an app to create your tickler file system, you can create it using Evernote (referral link). You'll spend a bit of time up front setting up things up, but once you're done, all folders will be ready for you to use now and in the future.
Here are the Evernote features you'll be using:
Step #1 – Create notebooks
To start creating your Evernote tickler file, first create 12 notebooks for each month of the year. They might get lost in the shuffle of your other notebooks, so consider numbering them, like this:
1 January
2 February
3 March
… and so on.
The notebooks will be in chronological order *except* for "10 October," "11  November," and "12 December." Those three will be positioned under "1 January." If you choose to include the year (e.g., "1 January 2013"), you'll have to rename the notebooks for subsequent years.
*Update: Reader Brandie K. suggested placing a zero before each number to get things to line up chronologically (e.g., 01, 02, 03, and so on) … and it works. =)
Step #2 – Stack the notebooks
To continue setting up your Evernote tickler file, stack the 12 notebooks you just created. Drag "January" to "February to create a new stack. Name that stack "Tickler." You can also click drop-downop down arrow on the right of each notebook, select "Add to Stack" (or "New Stack"), and click on the stack you want to add the notebooks to.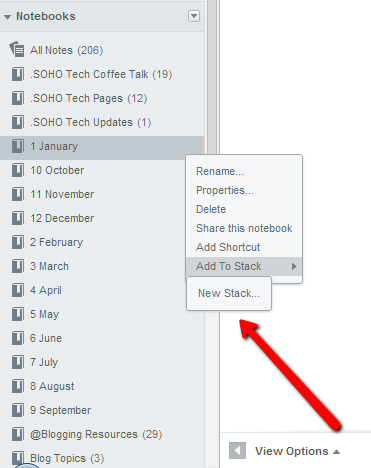 Step #3 – Create notes
Then, create 31 notes for each day of each month (you'll see 31 in parentheses next to each month that has 31 notes). Simply give each note a numerical name:
1
2
3
… and so on.
The notes may be in reverse order, so change your view (click on "View Options" at the bottom of your page) and sort by "Date Created (oldest first)." Or, you can start with 31 and then work backward.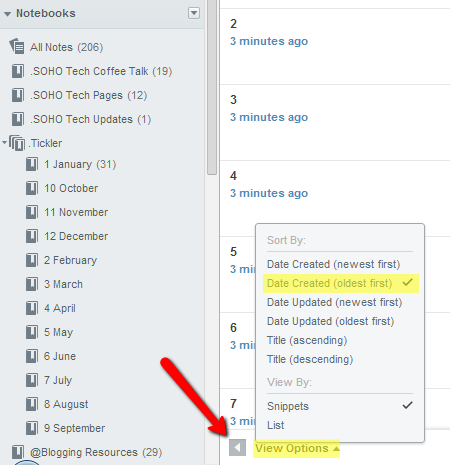 Step #4 – Create a shortcut
Your final step will be to create a shortcut. You'll have two options here.
1. Add the stacked notebooks ("Tickler") as a shortcut so that you don't have to go searching for it. This means a link to your tickler file will be added to the shortcut menu (above the notebooks menu).
Instead of adding a shortcut, you can put a period (".") or other symbol in front of the Tickler label so that it jumps to the top of your notebook list (another way for you to find it easily).
… OR …
2. Add a shortcut for the current month to the shortcut menu.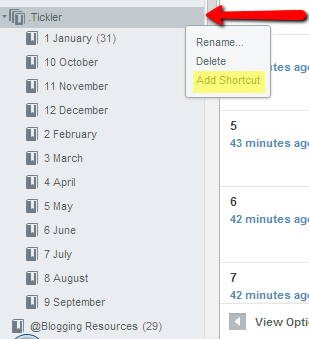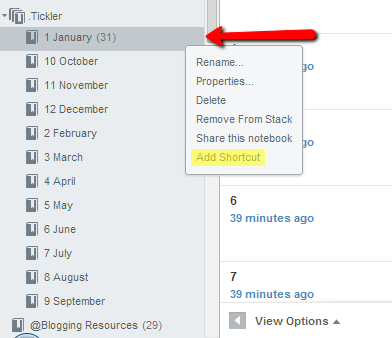 One more thing
You do have the option of not stacking your notebooks. You could skip that step —  just create 12 individual notebooks — and then add the shortcut for the current month to the shortcut menu. And, once the current month is over, you would then replace that shortcut with the shortcut for the new month.
Of course, not stacking your notebooks would mean that the remaining notebooks would be mingling and out in the open with your other (non-related) notebooks. If you're okay with that, then go for it. 
However you decide to create your tickler file in Evernote, you will need to get in the habit of adding reminders to specific days. So, consider adding an alert or reminder to your smartphone to fill up your "files."
If you've created an Evernote tickler file, leave a comment and share how it's working for you.
*This post was written on April 30, 2012 and refreshed on March 5, 2014. And again on July 21, 2020.