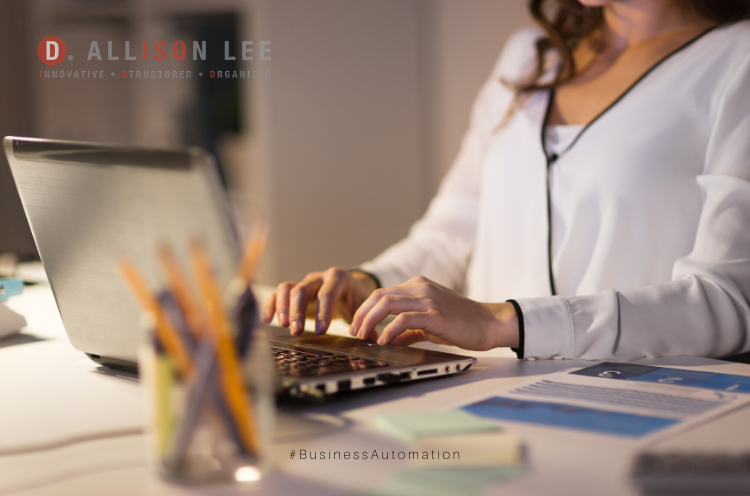 Business Automation: 13 Time-Saving Productivity Tech Tools
Is being more productive on your to-do list this year? Getting organized, using time more effectively, and getting more things accomplished have likely been on your "new year, new goals" list at some point. After all, they're practical and within reach for just about any business owner. So, how can you start the year off on the right foot and up your productivity game? A simple plan of attack that includes on business automation can help achieve your goals and get more done.
Digital productivity tools can help you successfully manage a myriad of business tasks and processes — especially the ones that take up too much of your time. For example, some manual tasks are unnecessary and can often suck the time right out of your day.
As you might have guessed, this is where automation can help. Keep reading to learn about 13 time-saving productivity tools that can help you automate specific tasks and give you more time to focus on your top goals and priorities.
Business Automation: 13 Time-Saving Productivity Tech Tools #automateyourbiz #productivity #techtools #worksmarter Click To Tweet
… but, before you you do, you should know that there's A LOT of information in this post about business automation that you probably won't read all at once. Bookmark this article or save it an app like Evernote (click on my affiliate link below to learn more about it) or Pocket to dive into later.
Save this post to your "Digital Productivity" or "Tech Tools" board
Business Automation: 13 Time-Saving Productivity Tech Tools
Business automation isn't a magic pill nor does it mean that you're completely hands-off and are not involved. You're simply plugging automation into strong workflows to effectively manage repetitive tasks and instances where you are not specifically needed. That way, you can be more strategic and purposeful about how you spend your time.
Here are 4 ways automation can help you carve out more hours in the workday and 13 tech tools to help you do it:
1. Social Media Automation: Quickly share content from your social queue
If you're still manually sharing social media updates, you may want to hit the pause button right now. It's likely not the best use of your time and can eat up much of your working hours. Basically, it's a repetitive time-suck and the more you do it, the less time you have to work on the really important things in your business.
Use this plan:
Decide which social platforms you want to focus on (e.g., TikTok, Instagram, Snapchat)
Figure out how many posts per platform you'll share (e.g., 3 posts per week on Facebook and Twitter)
Schedule time each week (try 30-45 minutes) to fill up your social queue (note: a virtual assistant can help with this and free up more of your time!)
Use a specific posting schedule (i.e., you decide the days/times to publish) or auto-post (i.e., the tool automatically posts your updates at the best times)
Automate with these tech tools:
2. Content Curation Automation: Easily find content to read or share
Once you've decided on the type of content that you will share, you'll now need to find it! This is usually very time-consuming and the perfect opportunity to take advantage of business automation.
Instead of spending hours and hours scouring the internet for the best stuff to post on your social channels, let the content come to you. You'll save time, stop information overload, and have an organized collection of great articles and videos to share on social.
Use this plan:
Automate with these tech tools:
Evernote (affiliate link)
Business Automation: 13 Time-Saving Productivity Tech Tools feat. @Agorapulse @Calendly @zapier #automateyourbiz #productivitytips #smallbusiness #techtools Click To Tweet
Save this post to your "Digital Productivity" or "Tech Tools" board
3. Calendar Automation: Simplify meeting scheduling
Would you agree that trying to find the best time for everyone on your team to meet can be like playing a game of chess?  That can turn into a real headache with never-ending searches through messages as you try to find the best time to meet up.
That's where calendar automation can help. It can rescue team members from the time consuming back and forth that often takes place when they're trying to find a date and time that they are all available. Calendar automation also makes it easy to schedule appointments with clients, prospects, and just about anyone who wants to connect face-to-face with you.
Digital calendars and scheduling tools can quickly help everyone nail down the best time to meet, schedule recurring meetings, and automatically send out reminders to attendees. These tools can also automatically set time limits on meetings and add in predetermined "buffer time" before and after each meeting. Best of all, they also make rescheduling easy.
Use this plan:
Use built-in features in your current digital calendar (like "Find a Time" in Google Calendar) to easily schedule office meetings
Make sure that everyone in your office uses the same digital tools and scheduling process
Use a scheduling tool that integrates with your digital calendar and lets meeting participants choose times based on your preset availability
Add scheduling links to your website (e.g., home page, "contact" page) so prospects can quickly schedule "discovery calls" with you
Automate with these tech tools:
4. Task Management Automation: Stay focused on important tasks
If an important task falls through the cracks or just doesn't get the attention it needs, you might see a negative impact not only on your productivity, but also on your bottom line. Though you might be using some digital tools and apps to help you stay focused on your priorities, you can put your productivity on autopilot by connecting those apps together.
Use this plan:
*Don't see the calendar and task management app you use? Chances are, your apps can be connected with Zapier or IFTTT. Simply do a search or click the "Explore" link to find them.
Automate with these tech tools:
Save this post to your "Digital Productivity" or "Tech Tools" board
These are just a few tools you can use to insert automation and skyrocket your productivity (also check out #13 on my list, automate.io, for some great project management and CRM integrations). Of course, business automation isn't the holy grail and you can't use it in every part of your business.
So, take some time to review your workflows. Get feedback from your in-office and virtual teams to see where automation can be helpful. Then, track your progress.
Are your results improving and productivity soaring? Or, do you need to make a few adjustments? Keep tweaking until you find the best digital automation blend for you and your company.
Hey folks! This post contains affiliate links. What does that mean? If you click on any of those links and make a purchase, I will get a small commission that will likely feed my growing coffee addiction! ☕