Are You Using Facebook Live? You Should!
Are you using Facebook Live? I am! Well, I'm just starting to.
Today — Star Wars Day —  I recorded my second Facebook Live video (see it at the end of this post). Unlike Google+ Hangouts, I didn't jump at the chance to test out Facebook's new video app.
First of all, it wasn't made available to all users when it first rolled out. Only verified peeps got the green light to try it out at the time. And, second of all, I was a little more interested in learning about Blab.
So, now here I am giving it a go. I have to tell you, the experience was pretty good. I think you should give it a try, too.

Why Use Video?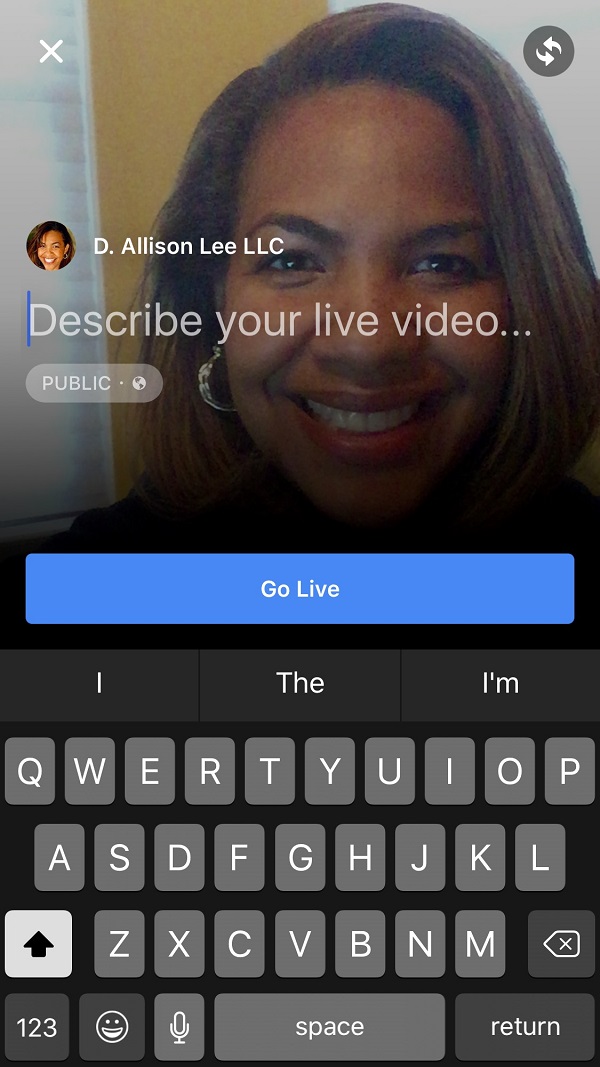 So, what's the big deal? What's all the fuss about video or Facebook Live? There are lots of reasons why you should use video to market your small business or consulting gig.
Here are three compelling ones:
1.
People love video.
78% of people watch videos online every week and 55% of people watch videos online every day (Source:
Hubspot
).
Wouldn't you say that those are two very good reasons why you should include video in your marketing? People seem to crave video content, so give it to them.
2.
You develop trust.
Another great reason to use video is that it's an awesome way for prospects and clients to get to know you and your brand — and to build trust.
You've heard this before: people do business with people they like and trust. Video lets you show off your friendly personality and give viewers a peek at how you conduct business. It can be the gateway to starting a solid business relationship.
And, you don't necessarily need fancy equipment. The camera on your smartphone can work just fine.
3.
Reach more people.
Video can widen your reach. As a digital entrepreneur, your clients are usually located everywhere, not just in your town. You can still connect with them without having to jump on a train or plane.
Use video to host AMA's ("Ask Me Anything") or do a "Show Me How" session for a product or service. You can also share tips and tricks (kinda like what I did below) and you can share breaking company news.
4.
Use it … again!
Yes, I know I said three reasons, but here's a bonus reason: you can take that video and embed it in a blog post like I did in this post (see reason #1). And, then share that post on social which can then lead to more traffic to your site.
Why Use Facebook Live?
If your clients are on Facebook, using Facebook Live is a no brainer. And, Facebook makes creating videos super easy to do (just start a status update). Of course, that's because they want you to use it.
What's more, they really promote live broadcasts in the newsfeed (verses when they're no longer live). Why? You guessed it — they want you to use it. Could it be that Facebook is challenging Blab, Hangouts, and all the other live streaming apps? Probably.
But, that's okay because you can use it to your advantage. Use it to get more eyes on you and your Facebook business page, and then send those eyes to your website with an enticing offer.
And, Facebook Live is free, so there's that.
We recently made a small update to News Feed so that Facebook Live videos are more likely to appear higher in News Feed when those videos are actually live, compared to after they are no longer live. 
    ~Facebook
Facebook Live Video: One Thing You Should Do
As I mentioned earlier, it took me a while to actually warm up to the idea of using Facebook Live. It was just one more tool to add to my "test it out" list. But, now I'm so glad that I tried it. It's really so much easier that I was expecting it to be.
Have a peek at my second attempt at Facebook Live (click play below) to learn about one key thing you should do when doing your own Facebook Live video (hint: how long you should record). I learned it from Mari Smith, so you know it's good!
Okay, for your viewing pleasure, I present my live broadcast from earlier today. Leave a comment to share your experience using Facebook Live or Periscope or Blab. Oh, and May the Fourth be With You!