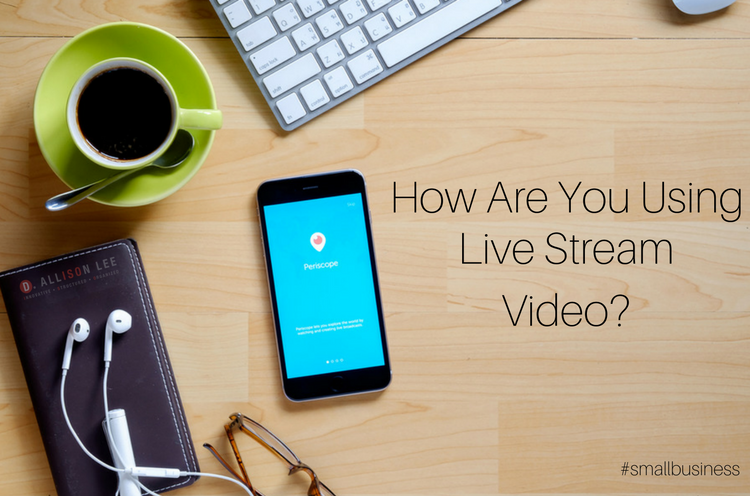 5 Ways to Use Live Stream Video in Your Business
Live stream video can be a huge game changer for small businesses. It's an easy and fun way for just about anyone (from a one-man-show to large corporations) to connect with audiences anywhere across the globe.

So, it was a little painful recently when some big news was announced by Blab and Google about Hangouts on Air (HOA). Just in case you haven't heard, here's a quick recap. Let's start with Blab. It's dead. Gone. Forever. Yeah, there was no transition. One day it was here and then the next day, it was gone. That's an ouch factor of 10.
Hangouts, on the other hand, is still around but it has changed locations. Instead of living inside of Google Plus, it's now residing over on YouTube. YouTube Live to be exact. And, if you already scheduled events inside GPlus, you'll have to start over and add them to YouTube Live. Perhaps we should assign a pain in the arse factor here? 😉
So, what's the big deal? Technology changes all the time, right? Well, yes, it does. The big deal really centers around the popularity of these apps and others like it — Facebook Live, Meerkat, (Update: Meerkat was shut down in 2016.) and, Periscope to name a few. Live stream video is an awesome marketing tool for freelancers and small business peeps.
And, all of the ones I've just mentioned are free. Yep, free.
5 Ways to Use Live Stream Video in Your Business
Which leads me to today's topic — five ways you can use livestreaming video. You might not see a need for it or maybe you think it's a fad. Well, didn't people say that about social media, too?
It doesn't look like this live video trend is going away (yeah, it might change a bit, but it's still around), so have a look at ways you can use it to your advantage.
1. Behind the Scenes Peek
Everyone loves getting a scoop or insider knowledge, right? Why not give it to them?! Show how things work behind the scenes — things that the average person wouldn't know. You'll make your readers and viewers feel special and help them to get to know more about you.
My good friend, Lindsey Mastis, does this really well. She's a journalist here in the DC area who often shows off the goings on in the newsroom and shares the breaking stories coming up.
She's also been known to do live piano concerts. Check out this video tribute to one of her favorite singers — Sir Elton John. See what she does there? She shares something personal that's important to her (a glimse into who she is) and her viewers love it.
You can do something similar and share:
Your preparation for a live event
How you created your product
A little bit of your company's quirkiness
2. Product Demo (or launch)
Watching a demo of how to use a product and seeing all the benefits and features live and in color is probably more helpful than reading about how it works, don't you agree? Take the opportunity to show off your stuff and explain why it's awesome sauce.
Not only is it a great way to connect with your tribe, but seeing all the bells and whistles can also help them make a purchasing decision. While you're at it, talk about some use cases or have a current, happy customer join you to explain why they love it so much.
3. Q&A or AMA
Question and answer or "Ask Me Anything" sessions can help your brand connect in a deeper way to your audience. And, since it's live, that connection can have a more authentic feel. Authenticity and transparency build trust. People buy from people they trust. See how that works?
Of course, you might get one or two trolls so be prepared for that. Otherwise, host an AMA or Q&A to help your current clients and prospects get their burning questions answered.
Btw, you could hold client only Q&As for folks who have questions or who want to offer suggestions about how you can improve your product or service.
4. Training or Sharing Tips
Bloggers often share tips, advice, or even specific training via blog posts (kinda like what I'm doing here) or recorded video.
Why not use live stream video to educate your audience? Ditch the traditional webinar and fire up a livestream video instead! Yes, you must still prepare and know what you're talking about.
But, live video is a great way to share helpful information and interact with customers and prospects. You can also answer questions you get from the live video chat and even give a shout out to specific peeps watching live. Who doesn't like getting a shout out?
And, once the livestream is over, you can offer the playback for anyone who couldn't make the live event. Win!
5. Interviews
Influencer interviews are hugely popular and can help you connect to a wider, very engaged audience. But, let's not forget that you can interview practically anyone — like your current, very happy customers, employees, and even people from related brands (think joint venture and partnerships).
If the interview shares golden nuggets that are easy to understand, it's a safe bet that people will gobble it up.
Download 5 MORE Ways to Use Live Stream Video
BONUS!
6. Introducing or Recapping Content
This is actually one way I plan to use Facebook Live. And, I'll be introducing (or recapping) this very post. Makes sense, right? Of course, you can do this, too. It's an easy way to explain what your readers can expect and generate a little a buzz about how they'll benefit from the post.
So, instead of simply reading the first paragraph, they can watch you explain why they simply HAVE TO read your latest post. Sounds like a good plan to me!
Still on the fence? Here's a bit of inspiration from Buffer, Larry Kim, CEO of MobileMonkey and Founder of Wordstream, and Amazon on how they use Periscope. The images below shows all notifications I received using the Periscope mobile app. When they each went live, the app pinged me so that I could tune in.
Ready to give livestreaming a shot? How will you use it for your small biz?