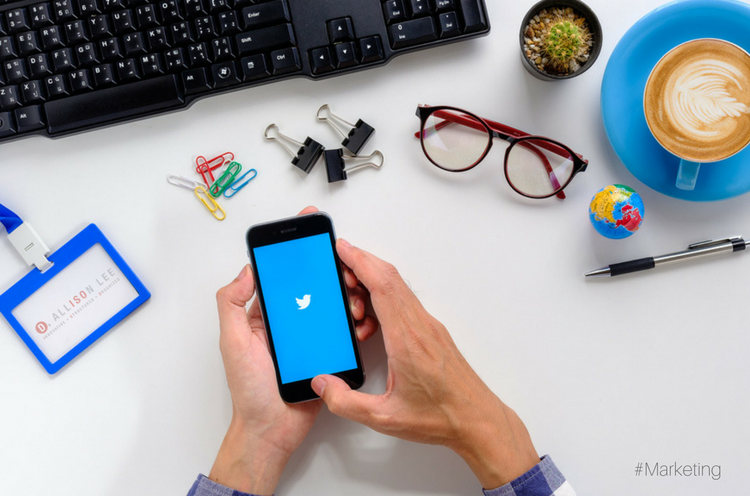 10 Marketing Experts to Follow on Twitter
Are you just getting your feet wet with Twitter? Or, were you an early adopter who started tweeting and using Twitter as a marketing tool well before anyone even knew what it was? No matter what stage of Twitterhood you're in, I have a question for you …

Who do you follow?
Simple question, right? Well, there are tons of people from all walks of life who use Twitter. Sure, you can follow peeps in your niche or even folks you like. But, you should also mix things up and look for new people, people who are interesting, who you can learn from, or who you might forge business partnerships with.
Whether you're just getting started or have been using Twitter for a while, stick around because I've put together a list (in no particular order) of some must-follow marketing peeps you should meet.
10 Marketing Experts to Follow on Twitter
This list — with some featured tweets — is purposefully short because I want to make sure you have enough time to check them all out. So, no excuses.
Twitter Bio: Author 48 books: Social Media, eComm, eBay, Customer Service. Forbes Top 10 Futurist, Founder #CustServ, #techradio podcast, marketing whisperer. StarTrek nerd
6 Ways Food and Beverage Brands Can Maximize Their Influencer #Marketing https://t.co/Y3TFk1zjDf

— Marsha Collier (@MarshaCollier) March 16, 2017
Twitter Bio: CEO @theSocialQuant Social Media Twitter Marketing Startup driving businesses Leads & Sales! Entrepreneur, Author & Inc. 500 Alum bit.ly/mkawula
Ultimate Guide: 13 Insanely Actionable Techniques to Get More #Twitter Followers: https://t.co/xEvO62dwqC pic.twitter.com/nXyWlAT2vP

— Mike Kawula (@MikeKawula) March 16, 2017
Twitter Bio: I help entrepreneurs GROW their business w/ social media! Keynote speaker, Forbes Top 10 Social Media Influencer.  Live Video Pro. Loves God, family & hockey!
Want to start a blog? Here's a beginner's guide to help you get moving! #blogging https://t.co/tiOgeJxsFL pic.twitter.com/iFCLRAb3gj

— Kim Garst (@kimgarst) March 16, 2017
Twitter Bio: World Traveler, VP of Digital @WorldCommForum, Board Member @DigiMarketingWF, Keynote Speaker, #GivingTuesday Ambassador; shooting a film w/ producer @RashaGoel
✓1 billion monthly active users on #Messenger & #WhatsApp
✓33K #chatbots on #Facebook Messenger (as of Sept. 2016)#AI #WCFGenevaWeek #bots pic.twitter.com/sZ9ptHiasa

— Sean Gardner ???? (@2morrowknight) March 16, 2017
Twitter Bio: Marketing Manager @SMExaminer #smmw17  Facebook Ads Consultant  Digital Marketing  #VR #AR #AI #SocialMedia
Short video tip by @jaclyndrose from 10 seconds or less: A primer on extra-short video marketing https://t.co/dWq1b9a0tx cc @marketingdive pic.twitter.com/t50p0Ox6Ay

— ☀Kim Reynolds (@KimReynolds) March 8, 2017
Twitter Bio: Acclaimed International Keynote Speaker. Author of "They Ask, You Answer" Helping businesses reach their potential in the digital age. Husband. Father. Teacher.
Video Marketing: Importance of Capturing Great Audio for Your Videos https://t.co/5jjB54mfWw by @TheSalesLionpic.twitter.com/xP3W4dQzr5

— Marcus Sheridan (@TheSalesLion) February 21, 2017
Twitter Bio: CEO – @SocialKNX – A content marketing & social media mgmt agency- I love BIG adventures- sing loud in my car- HATE cilantro & Im easily distracted by shiny obj..
Rules for social media: Be Interesting, Be Helpful, or BE QUIET! pic.twitter.com/tMHmcN3j4R

— Gina Schreck (@Ginaschreck) March 15, 2017
Twitter Bio: CEO @MobileMonkey_, Founder @WordStream. Columnist @Inc, @Medium, @CNBC. Entrepreneurship, AdWords, Facebook ads, Chatbots. Popularized Unicorns in Marketing.
Friends, 10yrs after founding wordstream, I'm off to my next adventure, a start-up in the Mobile/AI space Details: https://t.co/Ofixgq8BZz ???? pic.twitter.com/xjUQzKkLOl

— Larry Kim (@larrykim) March 16, 2017
Twitter Bio: #Marketing #ContentCreator | @Copyblogger Certified Master Content Marketer | 2016 Hermes Award for #Blogging | MS Mktg @NYU | NY Press Award
3 Proven Ways to Amplify Your #ContentMarketing Effortshttps://t.co/JMY50UgGPc@ScoopIt#contentpromotion pic.twitter.com/olqKYUoj4r

— Pam Neely (@PamellaNeely) March 11, 2017
Twitter Bio: #1 Social media keynote speaker, author, & consultant; Digital transformation; Five best-selling marketing books; Marketing Companion podcast; College educator
RT @BuzzSumo: Trying to move the needle on #contentmarketing? Check out https://t.co/PZGJ6D770g KNOWN. Great read! pic.twitter.com/G6emkS8ADF

— Mark Schaefer (@markwschaefer) March 15, 2017
If you want to follow everyone featured in today's post, I've put them (as well as a few others) on a Twitter list. Once you're there, click the "Subscribe" button (upper left side of the page). Not sure what a Twitter list is? Jump over to this post to learn more.
Btw, who would you add to a top ten list of marketing experts to follow on Twitter? Share in the comments!