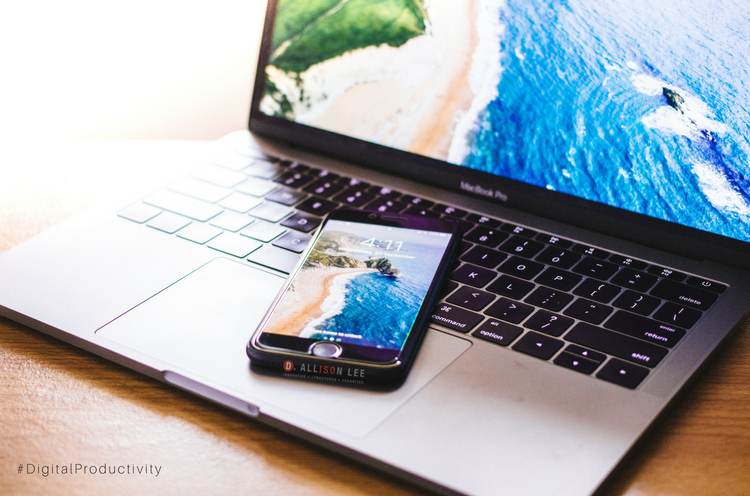 Digital Productivity: How to Level Up and Get More Done (and 50+ Digital Tools to Help You Do It!)
Almost everything we do in the workplace these days requires an app or tech tool to help us complete tasks and projects — especially if you work remotely. Digital productivity is no longer something that only large corporations focus on.

Whether you're a freelancer, solopreneur, small business owner leading a team, a co-founder, head cook, or bottle washer (you get what I mean), if you're not leveraging digital tools to maximize your productivity, you, my friend, might well be on your way to winning a losing battle.
What Does Digital Productivity Look Like?
So, perhaps I was a little dramatic with that previous statement, but the fact of the matter is that you're probably already using digital tools (even if you're not aware of it). The goal is to use them in a thoughtful and strategic way so that you can get more accomplished consistently.
Of course, digital productivity will look different for you depending on your industry and the tasks you need to complete. That said, there will likely be some common activities across several areas. Jump down further in the post to find out more about the ones listed below in bold.
Accounting
Calendar Management
Client Relationship Management (CRM)
Communication
Content and Graphics Creation
Data and Analytics
Digital Asset Management (DAM)
E-mail Marketing
Project and Task Management
Social Media Marketing and Management
It's time to level up your digital productivity! Start by creating (or polishing) your workflow first. #digitalproductivity #techtools #productivity Click To Tweet
Pin this post to your "Productivity" or "Small Business" board
Digital Productivity: 5 Steps to Level Up & Get More Done
There are many facets of your small business that can benefit from technology. Keep reading to learn about 5 ways you can level up your digital productivity and get over 50 tech tools that can help you do it.
1. Develop a workflow
What is a workflow? A workflow is basically the series of steps or actions you take to move a task from start to completion. You will likely have more than one workflow for each of your business processes and each process may require action from multiple team members.
Determine what your core business processes are and then craft a sustainable and efficient workflow for each. While you're at it, think about actions that can be automated so you can free up your human capital (i.e., your people!) so they can focus on tasks that require their special skills.
2. Look for kinks in the workflow
Do you already have a structure or workflow in place that just isn't working well? Do you know what part of the flow is broken? Are you getting complaints from clients? Are deadlines being missed? Is your team increasingly frustrated?
It's important for you to quickly find the kinks as they could mean decreased productivity and likely lost revenue. Once you've identified the holes in your workflow, think about the specific actions or results you need — and then find the best tech tool to fix it.
3. Involve your team
Talk to your team and get their input. They likely know from experience what's working and what's not. Work together to identify pain points and possible solutions. This will bring you closer to finding a fix for your workflow and will likely strengthen your team bond.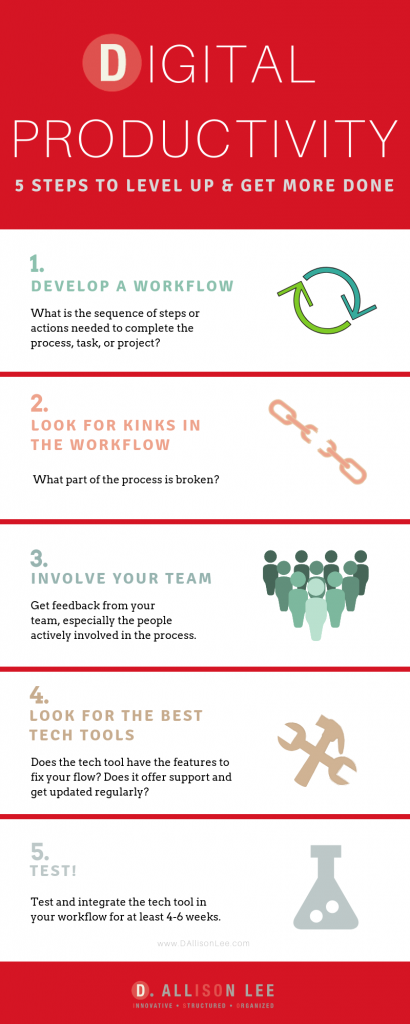 Hey! This infographic about digital productivity was created in Canva!
4. Investigate the best tech tools for the job
Though you might be tempted to download or test the tech tools and apps that you come across, think first about the features you need. Otherwise, you'll get bogged down with lots of bells and whistles you may not need.
That said, if you foresee growing and needing options you don't need now, consider how to integrate it in your plans for the future.
Another key factor in using web-based or mobile productivity apps is finding reputable developers. When was the app last updated? Do the developers have a system to respond to user questions or are those queries often ignored? There's nothing more frustrating than investing time in "getting to know" an app only to discover that the developers have been missing in action and offer no support.
You might want to talk to colleagues and visit online discussion forums to learn more about apps that can bolster your workflow. The time you invest in doing this upfront will be well worth it.
5. Test the app
Congratulations on finding the app to solve your workflow problems! Now's the time to test it to find out if really works the way it should. Keep in mind that one or two weeks is not long enough.
You should give it a good try for a reasonable amount of time, say four to six weeks. Integrate it into your workflow and be sure that everyone involved in the flow uses it, too. That way, you can really see how well it works.
Related: 7 Essential Productivity Apps for Freelancers, Consultants, and Coaches
Tools You Can Use to Maximize Digital Productivity
So, you've outlined your workflow and you're ready to level up your digital productivity. Now what? To save you a bit of time with researching digital tools that can help get more done, I've pulled together a list of over 50 apps you might want to check out.
If you use any of them (or plan to), please jump down to the comments to let me know what you think! Okay, here we go:
Calendar Management
Stay on top of your appointments and manage deadlines and meetings with these calendar apps:
Communication
There are all sorts of ways you can communicate these days and you'll need various tools to help you stay in touch with internal and external teams, prospects, and current clients. Check out the list below to get started:
E-mail
E-mail Marketing
Team Communication
Pin this post to your "Productivity" or "Small Business" board
Content and Graphics Creation
Content is still king and you'll need to produce some especially if you're using inbound marketing to attract your prospects.
Blogging
Graphics and Video Creation
Related: 5 Tech Skills of Highly Productive Entrepreneurs
Project and Task Management
Being productive means effectively using your energy and working on the right things at the right time. Digital productivity is leveraging tech tools to help you successfully execute your workflows and tackle your important projects and tasks. Here are a few that can help:
Project Management
Task Management
Social Media Marketing and Management
Social media can be an excellent way to "get the word out" and share content. There are many social platforms you can use (over 200!) to do that and I've listed some popular ones below. You'll likely save some time using an "all-in-one" digital tool to help you manage the most popular social networks.
Social Media Platforms
(TikTok is another platform that's been getting some good and not so good attention.)
Live Video Streaming
Social Media Management
Is digital productivity a top priority for you? Are you leveraging digital tools so you can accomplish more in your small business? Let me know in the comments!
Related: 10 Business Travel Apps to Keep You Organized
Note: Some of the links in today's post are referral links. If you make a purchase after clicking on those links, I'll get a small commission — enough for me to run out and grab my favorite latte! That said, those links are for apps that I have personally used and believe in. If you try them, let me know what you think!
---
Take the Challenge & Level Up!
10 Apps in 10 days! Get more comfortable using apps to help you brainstorm, connect with your team and clients, stay focused, and even have fun! Click here to get started.