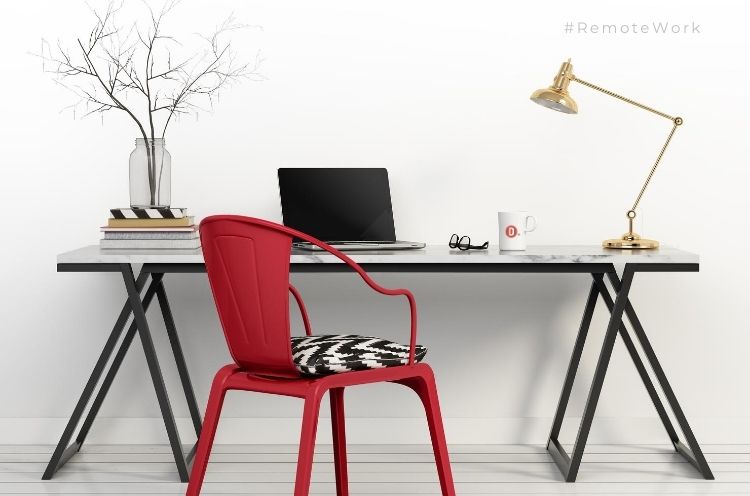 Top 5 Work From Home Productivity Tips
Are you struggling to get things done and looking for ways to improve your work from home productivity?
Many lives were thrown into chaos earlier this year when COVID-19 pandemic hit the U.S. with a vengeance. Schools closed, restaurants and gyms shut down, and suddenly a lot of people were working from a makeshift home office.
On top of that, the parents among us were trying to homeschool their children, or at least supervise them during remote learning. Summer is almost over and schools are reopening. But many states still require employees to work remotely where possible.
So, I decided that now is as good a time as ever to share some top work from home productivity tips.
Struggling to stay productive while you work from home? 👩🏽‍💻 Here are some of the best work from home productivity tips you can start using now. #remotework #productivity #workfromhome #productivitytips tell a friend
Save this post to your "Work From Home" or "Productivity" board
Full disclosure: I have worked from a home office as a Digital Productivity Coach, Certified Professional Organizer®, and productivity consultant for years. If you are self-employed, or part of a large office team and suddenly find yourself having a hard time being productive, I have some work from home productivity tips that should help.
Try all of them or just the few that appeal to you. I'd love to hear which tips work for you so be sure to come back here to let me know.
How to Be Productive Working from Home
If you want to know how to be productive working from home, check out the five tips below. Work with what you have, and adapt the tips to suit you, your location, and your job.
1.   Create a comfortable, dedicated workspace
You probably have a desk, an office chair, and a computer at work, at a minimum. But what you really need to create is a comfortable, dedicated workspace at home.
Your kitchen table or dining room table, or even the living room couch are not the best places to work for long periods of time. Your back may begin to hurt, and you might start feeling symptoms of carpal tunnel if you are in an unsupportive chair and your computer or laptop is not at the right height.
Consider using a corner of the living room or a sunroom, and setting up a small desk with a comfortable, supportive chair to create a home office. If you have a finished basement, that may be an ideal space for you to work.
Another option could be a closet (yes, a closet!) especially if you're short on space. You can convert a closet into a workspace by installing shelves (similar to the ones in the video above) to create a desk and a place for storing office supplies. Just be sure that you have enough room maneuver about comfortably.
Then, add good lighting, a plant, and your favorite painting or photo to make your space attractive and appealing to you. Don't forget to put interesting artwork behind you (or keep the wall clear) so that your space will show up nicely in video chats and conference calls.
By the way, those things you took out of the closet so you could carve out an office area? Consider putting them under your bed (or sofa) or consolidate them with items in another closet, though you may have to do a bit of purging first.
2.   Maintain work-life balance
When you set up your workspace, keep work-life balance in mind, and avoid creating an office in your bedroom. Otherwise, you might find yourself working late or having trouble falling asleep because your work is RIGHT THERE.
Instead, create a reasonable schedule. If you need to, set an alarm so you can continue to get up at the same time as you did when you used to drive to the office. Keep set work hours by starting and ending each day at the same time.
When you take a work break or lunch break, it's okay to throw in a load of laundry or take your dog for a walk. But keep the break time to what it would be if you were at the office. Simply put, keep your routines consistent so that your day is structured and balanced.
3.   Continue to dress for work
As mentioned in the recent blog post, 3 Reasons to Dress Up When You Work from Home, there are several benefits to continuing to dress up for work. Now, I don't mean that you should wear a coat and tie or your business suit (unless you have a big meeting with clients and that's how you usually dress for work). Rather, don't wear sweatpants or your pajamas all day.
As part of your morning routine, get dressed in work attire. Doing this can set the tone for the day, help improve your self-esteem and mental health, and boost your productivity. Dressing professionally also means that you'll be ready for impromptu video calls with your manager, colleagues, or clients.
One more thing — remember to change out of your work clothes when the workday is done. As you might have guessed, dressing for work and changing into non-work clothing when you're finished working is another way to separate your work life from your personal life.
Struggling to stay productive while you work from home? 👩🏽‍💻 Here are some of the best work from home productivity tips you can start using now. #remotework #productivity #workfromhome #productivitytips tell a friend
Save this post to your "Work From Home" or "Productivity" board
4.   Rethink team meetings
Working from home physically keeps team members apart and they might start feeling a bit isolated. After all, they can't just walk over to the water cooler or break room for a quick chat with workmates. They also can't drop in on a coworker to get feedback on a project.
Now that everyone is working remotely, it's time to rethink how you'll meet. Use email, work chat, or apps like Slack to check in on projects, but to stay connected with coworkers, you may want to go "old school" and pick up the phone. Think about scheduling phone calls ahead of time and making them a regular part of how you communicate with your team.
Of course, face-to-face calls can often be more engaging than audio-only calls. And small business leaders just about everywhere have been using popular videoconferencing apps like Zoom, GoToMeeting, or Google Meetings for "all hands" or small group meetings.
Video meetings can also help keep team bonds strong until everyone can be back together in the same physical space.
Here are a few ways to do that:
Allot a portion of work calls for personal or "catching up" time, perhaps at the beginning or end of meetings. Or, maybe right in the middle — like an intermission — to re-energize attendees, especially for long meetings or training sessions.
Use "break out rooms" for small group discussions or to randomly connect team members who may not normally work together on the same projects.
Set up non-work calls that are dedicated to team building or creative, themed meetups. Make them optional or set a frequency that works best for everyone.
5.   Get familiar with productivity apps
Work from home productivity can increase exponentially with the use of some of the best productivity apps. Some are free or have free trials (almost all do) so you can "try before you buy." But before downloading the most popular apps, do a bit of research to find the best one for your team.
Look for productivity apps that do what you need them to do but be sure that they are also easy to use. Using a complicated app or one that makes it difficult to automate tasks can actually make your team less productive. That's because they'll be wasting time trying to figure out the app instead of focusing on priority tasks.
Freelancers, don't worry. Though some productivity apps are intended for teams, they can also be used by solopreneurs or gig workers. Two examples of apps like this are Clickup and Trello.
Save this post to your "Work From Home" or "Productivity" board
The Bottom Line on Work from Home Productivity
The bottom line is whether you're the boss or part of a team, you CAN be productive working from home. In fact, you can actually be more productive at home than you are at the office. This is especially true if you find a way to minimize distractions in your work environment.
… 13 percent improvement in performance from people working from home." — Nicholas Bloom, Stanford Professor
And if you need help sorting through all of the options and figuring out what will work best for your business, let's talk.