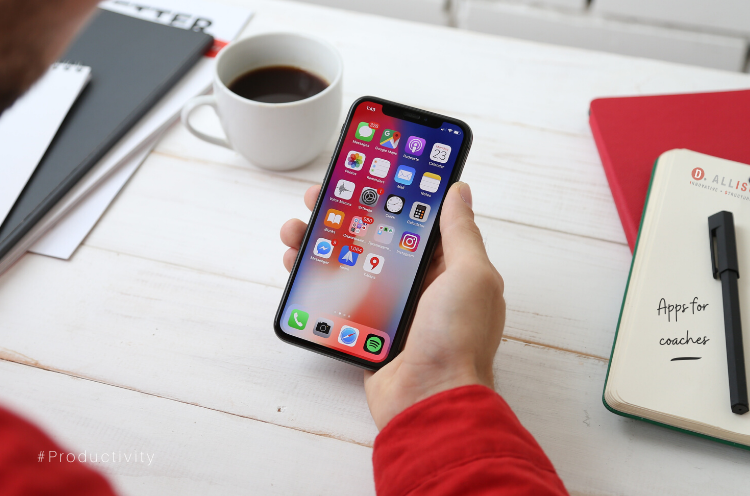 9 Essential Productivity Apps for Freelancers, Consultants, and Coaches
This post was updated again on March 3, 2020! Jump down to #7 to get the deets on the new app!
If you're a freelancer, consultant, or coach, you'll need to rely on systems to keep track of your clients and projects — and to simply get stuff done. One of the most helpful things you can to increase your productivity is to use a combination of people and technology, including apps. For example, you might use a productivity app or a suite of apps to help you stay on top of your freelance game.

And, you might also consider hiring an intern, a virtual assistant, or using a service like Upwork, Zirtual, or FancyHands, especially during your peak seasons, to help keep your freelance gigs running smoothly. It's probably very likely that your virtual assistant will rely on apps to keep him/herself (and you) on track toward greater productivity.
If you're not sure which productivity apps you should start with, check out the seven eight tools below. Each will give you fighting chance of staving off procrastination and distractions and keep you organized so that you can cross those tasks off your to do list.
Pin this post to your "Apps" or "Productivity" board
9 Productivity Apps for Freelancers, Consultants, and Coaches
Staying focused is one of the more challenging things that, well, just about everyone faces. If the bells and whistles that the Internet serves up (like Facebook and Twitter) always seem to get you off track, RescueTime will … wait for it … rescue you!
RescueTime will help you track how you spend your time. It runs behind the scenes on your desktop and mobile device and gives you data you can analyze and do something with. What does that mean? You'll get a realistic snapshot of your day and where your time is spent so you can make adjustments to be more productive.
You can also set alerts for when you've hit the limit on a specific activity. You might, for instance, set a 20-minute time limit for connecting with your Twitter peeps. When your time's up, RescueTime will tap you on the shoulder. If you find that you just can't drag yourself away from sending 280 character messages, you can use the app to block Twitter or any other site that distracts and takes you away from your priorities.
NowDoThis.com is a no-frills to-do list. There are no fancy colors or pretty pictures to distract you. It's as minimalist (and simple) as it gets. Create a to list and each time you complete a task, click the "done" button.
NowDoThis also lets you focus on one task at a time instead of multitasking. So, though you record your entire list, you'll only see each individual task after you click "done."
Trello is one of my favorite apps (and that's my referral link), especially because it's very intuitive and easy to use. Think of a Trello board as a card system with lists that are organized according to the workflow you have in place.
I've used Trello to track client projects and have also invited those clients to join the Trello board I've set up for their project so that they can see progress in action. So, as you might already realize, it's a great collaboration tool.
Trello can also well for visual learners who might otherwise plan everything out using sticky notes that can easily get misplaced. You can organize your projects on a specific board and then create a card system that includes tasks for each phase of those projects. Each board is private, though you can, as I mentioned before, invite others to join (you can also revoke access).
Trello will have a familiar feel — you can drag and drop cards and copy/paste content from one card system (even that content is on a separate board) to another. In addition, Trello uses Markdown so you can format your text (e.g., bold, italics).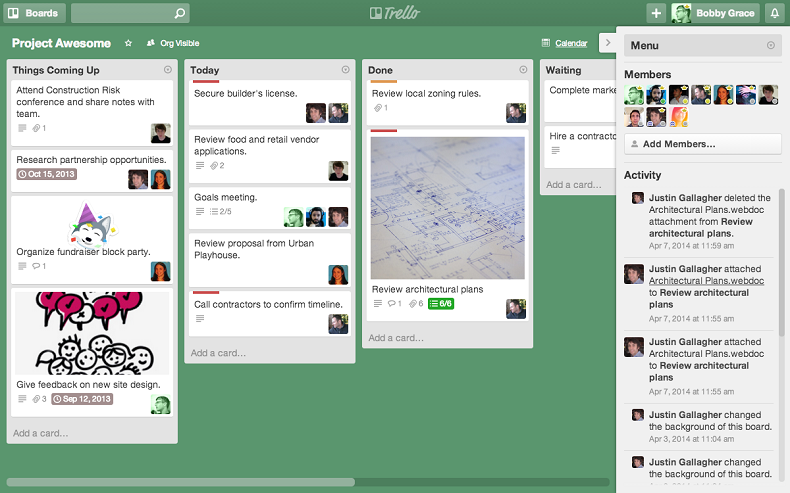 Pin this post to your "Apps" or "Productivity" board
Are you forgetful? Does out of sight mean out of mind? OhDon'tForget.com can help by sending your reminders, especially ones that are not recurring. You know, the ones that you will likely forget because you don't do them all the time.
And, you can remind the peeps in your life who need a little nudge, too. Simply enter a mobile number, the date and time you want the reminder sent, and a message. Of course, you'll want to make sure you have your cell phone with you so you don't miss the reminder.
Evernote is a well-known application and a popular one, too. That's because it's a very versatile app that can improve your productivity and help you manage your workflows well.
One of the best features of Evernote (in my opinion) is the Web Clipper. It's a simple and easy tool to use. As you're searching the Internet (perhaps doing research for your next blog post or chapter of your book), simply clip the useful information you come across. Save it to a specific notebook and add tags (i.e., keywords) to help you find what you're looking for. Oh, and you can annotate your clips, too.
And, since Evernote (referral link) is accessible via your desktop, the web, and mobile apps, you can access your clips no matter where you are.
Are you tired of sifting through your inbox looking messages you need to reply to? Sometimes, you get an e-mail from a prospect (or joint venture partner) who asks you to get back to them on a specific day that may be a few days out.
Where do you put that reminder?
You could put it on your calendar or you could send a reminder to yourself using FollowUp.cc (using a special FollowUp.cc address) so that you don't forget. For example, if you need to follow up with that person on October 30th, simply send an e-mail to [email protected].
How else could you use this reminder service?
Business Tasks
Check in with a client after you've finished working on a project with them
Ask for a testimonial
Revise a proposal/contract and re-send to a client
Personal Tasks
Doctor's appointment
RSVP to an event
Purchase a gift
You can see that by using FollowUp.cc, you'll be able to stop endless searches and stop wasting time.
*March 2020 Update*
I recently learned about another tool — Right Inbox for Gmail — that lets you schedule emails to be sent later. It also lets you add notes to emails that are "for your eyes only." These private notes are like notes you might add to the back of a business card you've just received at a networking event. They can jog your memory and help add context to your future conversations.
Here's what Sujan Patel had to say about this app:
More than 250,000+ professionals have added Right Inbox to Gmail for next-level email productivity. Right Inbox saves you time on repetitive tasks and helps you to send better emails, in less time consistently. Once you install the Right Inbox app you'll immediately gain two levels up of time-saving, productivity-improving tools. Send emails later, recurring emails, notes, follow up emails, templates, signatures, CRM & more.
If you've tried Right Inbox or are currently using it, please drop me a line or leave a comment below. I'd love to hear what you think — especially about the private notes.
Pin this post to your "Apps" or "Productivity" board
This app can help you to budget and track your minutes, and it can also motivate you to keep up with new habits (sort of like the Wonderful Day app does). Need to work for a set timeframe on your most important project?
My Minutes turns your tasks green once you've hit your goal, but turns red if you spend too much time on a task. This feature can work well for non-work related tasks (like surfing the web). Set aside a reasonable block of time for those activities and start the timer so that you know when it's time to jump back to your work projects.
Another helpful feature — you can set an alert to be notified of tasks you need to get done at the top of your day. That way, you can start your day off on the right foot and focused on your priorities (not, you know, checking your Facebook feed).
Related: Top 5 Apps for Business Coaches and Consultants
So, I know that you're not using the same password for all the sites you have accounts with, right? And, I'm sure you also have a safe, easy way to store and retrieve those passwords, yes?
Don't worry if you answered "no" to those questions because that's where LastPass comes in. With this app, you'll only need to remember one master password and keep all your passwords in one central location. LastPass also has a strong password generator so you don't have to be a rocket scientist to come up with a hard-to-guess passcode.
So, don't waste time searching for sticky notes with your passwords on them. Instead, install LastPass and work on getting important things done (like writing client proposals or working with your virtual assistant).
Question: What's YOUR favorite productivity tool? It's okay if it's not an app or tech tool. There'll be no shaming. 😉 Please share in the comments.