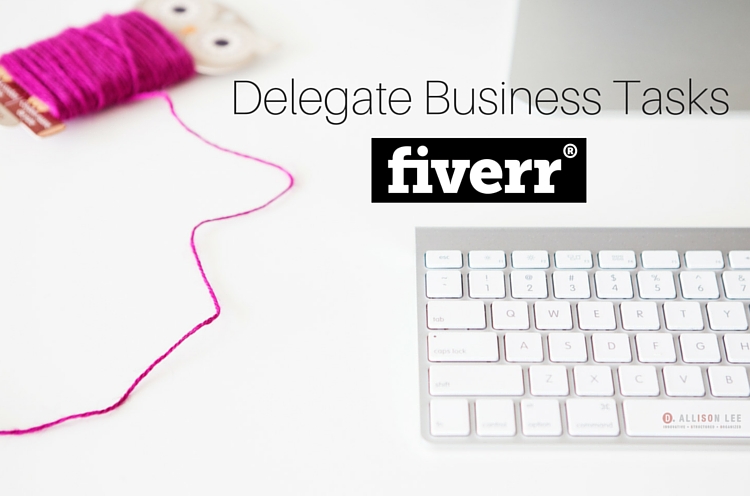 Use Fiverr To Complete Business Tasks Quickly and Inexpensively
Fiverr. Have you heard of it? If you haven't and you're looking for an inexpensive way to hire someone to get something done, then this app is just the thing for you!

Use Fiverr to Complete Business Tasks (and More)
1.
Everything starts at $5.
Of course, there are add-ons to get extra products or services with your order, but you can get a whole lot for five bucks. It's pretty irresistible and signing up for an account is free.
2.
Access your account anywhere.
Like almost everything else these days, there's a mobile app so you can access your account from anywhere. This is convenient for getting stuff done on the go and getting notifications when you are away from your computer.
3.
The options are endless.
You can have someone design an infographic or an ebook cover. You can also find someone to do a voiceover or to get traffic to your website or even proofread something you wrote. The sky's the limit!
4.
Make some extra money.
What's your special talent or skill? Whatever it is, sell it! Signing up to be a seller on Fiverr is easy and fast. Once that's done, start promoting your profile to get customers and make some extra moola.
Want some ideas for what talent to sell?
Check out my Fiverr gig and poke around the site
.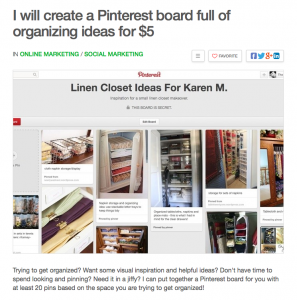 Benefits of Using Fiverr
So, how does this benefit you? Great question! I'll tell you.
Save time. Save serious time. By delegating mundane tasks that you need done for your business, you can focus on the part you're passionate about. Stop trying to figure out how to create an infographic and pay $5 for one.
Save money. I'm pretty sure you can't hire anyone for less than $5, so this website will definitely save you some loot.
Get ideas. Fiverr is a great website full of things that can spark some good brainstorming. It's a database of ideas – ideas for making more money, ideas for making your services better — lots and lots of ideas.
I highly recommend checking out Fiverr. At the very least, bookmark it and take a peek at it later.
What do you think? Have you heard of it? Used it? Share your experiences in the comments.