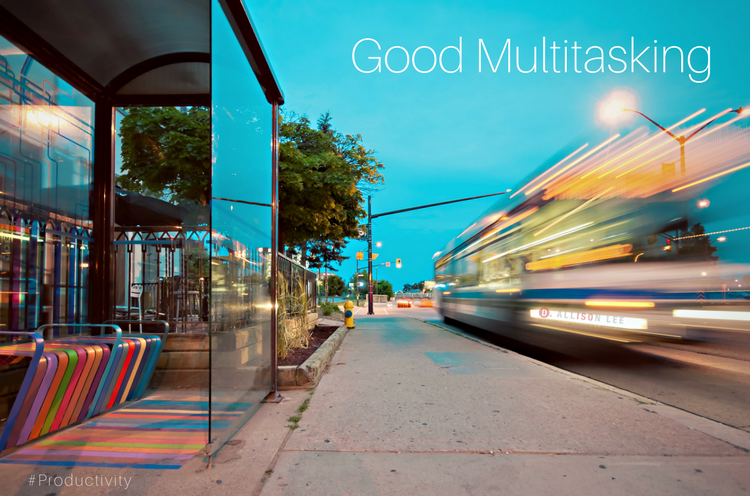 Good Multitasking: 8 Ways to Creatively Do Two Things at the Same Time
Good multitasking? Sounds crazy, right? That's because you've probably heard that multitasking is bad for your brain. You probably even heard that from me (here, here, and here).
In fact, there's lots of evidence that suggests that we humans suck at multitasking and that we're actually doing something else entirely called task switching. Basically, we're just shifting our attention from one thing to another, often at a rapid-fire pace. This means that we're less efficient and our productivity takes a nosedive.
So, why would I even ask you to think about doing two things at the same time? Should you kick single-tasking to the curb? The answer is a resounding no.
While I'm recommending that you do two things simultaneously, I'm also saying that you should focus primarily on one of those things. Is that even possible? Indeed it is.
Keep reading to learn about 8 ways you can creatively — and successfully — do two things at the same time.
Good multitasking? Yes! Here are 8 ways to successfully do two things at the same time: http://bit.ly/GoodMultitasking
Click To Tweet
8 Ways to Work on Two Things at the Same Time
To give you an idea of how good multitasking can work, I've gathered for you a set of things you can do simultaneously and still keep your brain cells alive and happy.
For the actions sets below, you'll notice that good multitasking:
Relies heavily on habit stacking where you connect or pair one task to another that you normally do.
Can include a task that plays the role of the "helper" and gets little cognitive attention from you. And that helper task also assists you with completing the one that does get your full attention.
Okay, here are 8 ways you can successfully work on two things simultaneously.
Good Multitasking Action Set #1
Clean out your car
Fill up your car with gas
My entrepreneurial road warriors will appreciate this example, affectionately known as "The Pump and Dump." If you do a bit of driving for work (or even when you're taking a personal road trip), you know that you can accumulate all kinds of things in your car from food wrappers to pens to papers and magazines.
You also know that you'll need to stop and fill up for gas periodically, so why not use that time to clean up your car and clear out the junk? If you get in the habit of clearing out the trash every time you stopped to fuel your car, imagine how much cleaner it would be.
Watch the video below for more car cleaning (and organizing) hacks from Brittany over at Vasseur Beauty.
Good Multitasking Action Set #2
Listen to a podcast
Exercise
One of my goals for this year is to listen to more podcasts. You thought I was going to say exercise more, didn't you? Well, that's true, too. But, exercising is a pretty regular part of my routine while the podcast thing sorta wasn't. So, I decided to connect the two together and do them at the same time.
While I'm on the treadmill, I fire up a podcast so that I can learn a few new things. Two of my favorites so far are Become a ProBlogger With Darren Rowse and Simple Pin Podcast with Kate Ahl. I'm particularly fond of podcasts that are about 15-20 minutes long. That means I can still get a workout and fill up my brain with good stuff when I'm short on time. You'll likely find a good mix that works for you, too.
Check out my podcast, The Productivity Lovers Podcast on YouTube!
Good multitasking? Yes! You really can successfully do two things at the same time!
Click To Tweet
Good Multitasking Action Set #3
Listen to or read a book
Drive
If you don't work from home, you likely spend a good amount of each day in a car (driving or carpooling) or using some form of public transportation. You certainly can sit (in either situation) and do nothing. Or, you can feed your brain and perhaps your heart depending on what you choose to read or listen to.
Driving and commuting gives you a nice chunk of time that you can put to good use. The best part is that you don't have to carve out this time. It's already a part of your routine. So, pop on your headphones or pull out your favorite novel (or business or self-help book) during your next morning commute.
Not sure which book you should choose? Watch the video below for book recommendations (including audiobooks) from YouTuber and lifestyle blogger, Aileen over at Lavendaire.
Good Multitasking Action Set #4
Review your day/plan ahead
Commute (morning)
Reviewing your to do list and calendar before you get to work can be a productive way to start your day. Which means your morning commute can be your golden hour. Use it to review or plan ahead while you're away from the flurry of activities and interruptions at work.
Have a look at your day:
What's on tap?
Any meetings you need to prepare for?
What do you need to work on first when you get to your office?
Are there any scheduled breaks during the day?
Though this works really well when you use public transportation, if you're driving, you can still do a bit of review. You'll just need a little tech help. Ask Siri or your favorite AI assistant to read your task list for you or simply ask, "What's on my calendar for today?"
Do you need several cups of coffee before your brain cells start sparking? Or maybe you get a burst of energy later in the day. Then, flip this around and use your evening commute to review and plan for the upcoming day.
Good Multitasking Action Set #5
Exercise
Commute (morning, evening, or both)
No extra time to get in some exercise? Well, your morning and evening commutes can be perfect times to add more movement during your day.
You can even switch things up a bit on some days. For example, you might walk or bike to work in the morning and then walk to the metro station in the evening. Then, you can jump to action set #3 or #4. See how nicely that works?
In the DC area? Check out Capital Bikeshare.
Good Multitasking Action Set #6
Do laundry
Take a nap
In this scenario, you're primarily attending (oxymoron?) to napping. The laundry is happening in the background. Your washing machine is doing the heavy lifting while you snooze for a bit. So, I guess in reality, you're napping during laundry time.
One more thing — You may want to add another step. About 20 minutes before you take that nap, grab a cup of coffee — say before you put your laundry in the washer.
Why drink coffee? As it turns out, coffee naps are fabulous because you'll be even more alert when you wake up. Just be sure to keep your naps around 20-ish (and not more than 30). Get the science behind coffee naps from this article: Science Says 'Coffee Naps' Are Better Than Non-Caffeinated Ones and let me know how they work for you.
Good Multitasking Action Set #7
Write an outline
Wash your car
This next action step comes directly from my own experience. In fact, I outlined the post you're reading right now while waiting for my car at the car wash.
As the ideas started pouring into my head (don't you love when that happens?), I grabbed them and started an outline in Evernote. That's the nice thing about having a note-taking app available at your fingertips. You won't lose all your best ideas and you can start writing even when you're out and about. Like say at the car wash.
BTW, you don't have thumb type either. Just send an audio note to Evernote. Simple, quick, and easy.
Good Multitasking Action Set #8
Read a book (or white paper or magazine)
Travel (on a flight, train)
People have been doing this one since the beginning of time, right? Long plane and train rides offer up the best opportunities to escape into a book. Some of us might pull out our laptops to get work done.
And, that's okay but why not read that book you've been meaning to get back to? I mean who doesn't have a book that they haven't finished reading? Don't feel like reading? How about journaling and writing down important ideas?
Final Word
If you've made it this far (the bottom of the post!), you've probably noticed that several of these action sets seem to work very well when you're traveling or during your commute.
As I mentioned before, the time you spend going to and from work is already a part of your regular routine. That long plane ride has already been booked. So, use that planned travel time to work on things that are important to you and are high on your priority list.
How have you used your commute to get things done? Share in the comments.
*This post was published on March 13, 2018 and refreshed on March 29, 2023.