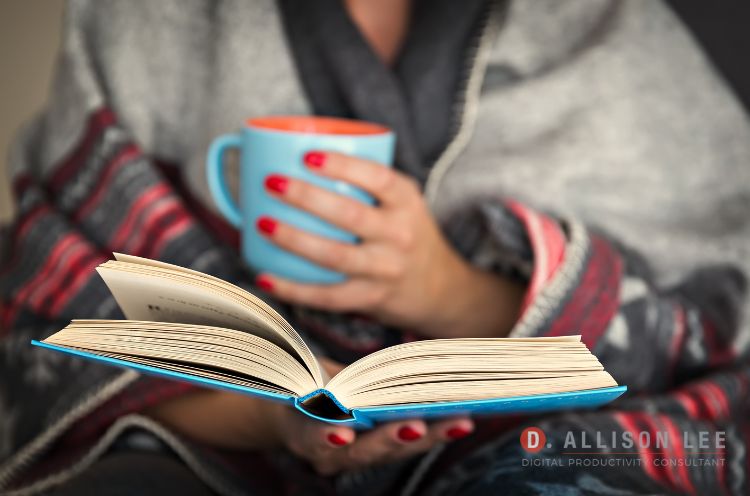 Brilliant Books for Business Owners (Yes, Audiobooks, Too)
Reading books for entrepreneurs can be an effective way for business owners to "always be learning." A big plus is that reading can be more affordable than taking a course or series of courses which in turn can help make learning a regular habit.
Today I'm sharing:
If you have books you love that are not on my list, share them in the comments (even if they're not strictly business-related). Okay, let's get started.
What Reading Does to Your Brain
Besides the "always be learning factor," reading can help in a variety of ways. Business owner or not, reading delights the brain and helps you to:
Expand vocabulary and writing skills. New-to-you words will probably jump out at you the more you read as each author's experiences and phrases will be infused in their book. As an entrepreneur or freelancer, this can be invaluable when communicating with others, writing blog posts, or business emails.
Relax and destress. When you get involved in a fascinating storyline or are deeply intrigued by different strategies and perspectives, you likely don't have much room in your brain to ruminate or worry about the peaks and valleys of entrepreneurship.
Improve memory. Reading lights up your brain in many ways and all of that activity can contribute to improving your memory and keeping it sharp.
Strengthen focus. Reading allows you to give your full attention to a book so the more you read, the more you can improve your focus over time. And strengthening your focus muscle can have a positive impact on your overall productivity. Distractions are around every corner and your ability to shut them out and concentrate on deep work will be an asset.
The research found that people who participated in mentally stimulating activities both early and late in life had a slower rate of decline in memory compared to those who did not participate in such activities across their lifetime, after adjusting for differing levels of plaques and tangles in the brain. Mental activity accounted for nearly 15 percent of the difference in decline beyond what is explained by plaques and tangles in the brain. –ScienceDaily.com
Why Reading is Essential for Entrepreneurs
Wouldn't it be nice if we entered into entrepreneurship knowing everything we needed so we could hit the ground running? Well, in a sense, we can. Along with mentors, advisors, coaches, and a motivating inner circle, books are an essential tool for business owners.
Here's why:
Stay up-to-date
Reading can help you stay informed about your industry and the wider business world. Reading articles, blog posts, and books about business can help you keep up with the latest trends and developments in your field which can help you make informed decisions about your company.
Learn about business strategies
Whether you're a new small business owner or have been around the entrepreneurial block for a few years, there's a book for just about every stage of your business from start-up to serial entrepreneur.
Some books are niche-specific while others focus on the realities of running your own company. Pick any topic and you can probably find a book about it online (hello, Amazon!) or in a brick and mortar bookstore.
Get different perspectives
Have a business problem you need to figure out? If you've turned over every rock and looked at every well-known strategy, there's likely to be a book out there with a creative way of handling common or complex business issues.
The perspectives may be different and that's a good thing because they get you thinking in different ways. And you just might find the right mix of strategies to take your business to the next level.
Find inspiration
Inspiration and motivation are often just a few pages away. In addition to gaining knowledge, reading the experiences (even the difficult ones) of others can inspire you to stay the course. Or to pivot to something even better, explore new or interesting ideas, and to do hard things.
Connect with others
Reading doesn't have to be a solitary activity. Though you may read a book on your own, you can also join a book club (or two) to discuss what the what you're reading. You're almost guaranteed to walk away with food for thought and a way to connect with a community of other entrepreneurs and book aficionados.
Psst! My podcast cohost and I discuss books on our show. Check them out here and here!
Where to Find Books for Entrepreneurs and Reading Recommendations
There are a number of places to find your next great read. You can still visit your local bookstore or hang out on your sofa while you browse online retailers. Keep in mind that where you find books may depend on your preference for paper or hard copies, digital tomes, or audiobooks.
Not sure which books to choose? You can get help with that, too. Keep reading to learn where you can find business books for entrepreneurs and reading recommendations.
Local Library
Look no further than your local library. It's likely to have the selection of books you're looking for and if it doesn't, you can talk with the librarian to and request that they add them to the library's collection. Your librarian can also offer recommendations based on the topic you want more information about.
By the way,  your local library might also have home delivery service so remember to ask about that.
And, in the meantime, you can download one (or more) of these library apps to supercharge your library experience:
You probably already know this but you can do a whole lot more than just borrow books from your library. My colleague and friend, Julie Bestry, shares all the details in this post.
Brilliant Books for Business Owners (Yes, Audiobooks, Too)
Click To Tweet
Online Retailers
Whether you prefer listening to your books (like I do) or want to order a paperback, hard cover, eBook, or audiobook online, you can visit:
Here's what book you should read based on your 2023 resolution 🧵

— Bookshop.org US (@Bookshop_Org) January 3, 2023
Book Clubs
Book clubs are a great way to find books to add to your collection AND find your reading tribe. Here are several to get you started:
Don't see a book club that interests you? Start your own!
Book Summaries
Short on time and just want to get down to brass tacks? Or maybe you want to get the gist before you buy the book? Then book summaries are just for you. Summary apps (like Blinkist) will also curate books for you (and your team) based on your goals and interests.
Here are a few others for you to check out:
Let's find balance and renewal in this new year with this mindful sweepstakes! ☮️✌️

✨#DopamineNation by Dr. Anna Lembke
✨SUCCESSFUL AGING by @danlevitin
✨DIGITAL MINIMALISM by Cal Newport
✨ATOMIC HABITS by @JamesClear

Enter for a chance to win: https://t.co/mCEhK41M63 pic.twitter.com/TaiYbr1YO4

— Portfolio Books (@portfoliobooks) January 5, 2023
Books I've Read (And You Should, Too)
If you've made this far in the post, you've reached the section where I share some of the books I've read in recent years. You didn't think I'd offer advice without taking it myself, did you?
But first, here's a quick history of my recent reading journey. In 2021, I read (mostly listened to) 100 fiction and non-fiction books and planned to best that number by one in 2022 (total: 101). If you stay connected to me via my newsletter, you know that my personal life turned upside down last year and I missed my goal.
So now, I've decided to listen to at least 50 books by year's end. Reasonable, don't you think? Wish me luck!
[Side note: Once you jump down to the list, you'll notice that last year I binged on one author's books — Malcolm Gladwell. That was not on purpose. It just sort of happened that way. Gladwell reads his own books and I found his voice to be captivating. Of course, the content engaged my mind and made me think about things differently even if I sometimes ended up sticking with my original position.]
Apps I Use
I use a combination of these apps to read/listen to books:
I use Libby most often which lets me practice patience since sometimes I have to wait get the book I want. That said, I'm not opposed to buying books. I have and I shall again. Especially the ones I want to hold and that compel me to turn the pages.
A nice feature of using apps is the ability to bookmark a spot in the book you want to go back to. You can also add notes to your bookmarks so that they make sense to you when you go back to them. That's like writing on the page or underlining in your paper copy. Or, jotting down your thoughts on a sticky note and placing it on the page you're marking.
Structure of My Book List
Here's what you'll find in the list below:
Unabridged, non-fiction books I listened to (or on some occasions, read)
Titles followed by authors in parenthesis
Books are sorted by year (2023 first, then 2022, 2021, 2020, and "some long time ago"), then alphabetically by title
(By the way, all book links listed below are affiliate links which means if you buy a book after clicking on one of those links, I'll get a small payment that will go towards my coffee fund. ☕)
Legend
Asterisk (*) — I've read or listened to the book more than once
Exclamation mark (!) — I plan to re-read/listen to the book
Hashtag (#) — I haven't finished the book yet
Plus sign (+) — On my reading list for the current year
Hold on. A few things to think about first.
Before you begin reading, first …
Figure out why. What you're hoping to achieve by reading a particular book? Are you looking for different perspectives? The answer to a problem you're experiencing? Or, maybe for now you just want to get a book under your belt. There's no right or wrong reason but it should be meaningful to you.
Set a goal. Set a reasonable and realistic goal for yourself. How many books ca ]n you read in a week? Perhaps a monthly goal might suit you better? Think it through and then get to reading.
Remember. Scan the list and jot down the ones that catch your eye in Evernote or your favorite notebook so you don't forget about your picks.
Take notes. Consider using a reading journal, spreadsheet, or a note in Evernote to capture your thoughts (both agreeable and disagreeable), questions that come up for you, or new ideas and brain sparks. I'm working on a reading log and will come back and share it here.
Enough said. Here are my picks!
What's on your reading list this year? Here are a few suggestions.
Click To Tweet
Deb's List of Brilliant Business Books for Entrepreneurs
2023
2 Second Lean: How to Grow People and Build a Lean Culture (Paul A. Akers) +
A Poison Like No Other (Matt Simon)
Attention Span: A Groundbreaking Way to Restore Balance, Happiness and Productivity (Gloria Mark, PhD) !
Belonging: A Daughter's Search for Identity Through Loss and Love (Michelle Miller)
Deep Work: Rules for Focused Success in a Distracted World (Cal Newport) +
Designing & Leading Life-Changing Workshops: Creating the Conditions for Transformation in Your Groups, Trainings, and Retreats (Ken Nelson, David Ronka, Lesli Lang, et al) +
From Scratch: A Memoir of Love, Sicily, and Finding Home (Tembi Locke)
Getting Things Done: The Art of Stress-Free Productivity (David Allen) # *
How to Be a Productivity Ninja: Worry Less, Achieve More, and Love What You Do (Graham Allcott) +
How to Train Your Mind: Exploring the Productivity Benefits of Meditation (Chris Bailey) +
From To-Do to Done: How to Go from Busy to Productive by Mastering Your To-Do List (Maura Nevel Thomas) +
Indistractable: How to Control Your Attention and Choose Your Life (Nir Eyal, Julie Li) #
Make Your Bed: Little Things That Can Change Your Life…And Maybe the World (Admiral William H. McRaven) +
Más agudo, más rápido y mejor: Los secretos para ser más productivo en la vida y en el trabajo  (Charles Duhigg) + [I plan to listen to the Spanish narration of "Smarter Faster Better :The Secrets of  Being Productive in Life and Business" narrated by Raúl Arrieta]
The 5 AM Club: Own Your Morning, Elevate Your Life (Robin Sharma) + #
The Portfolio Life: How to Future-Proof Your Career, Avoid Burnout, and Build a Life Bigger than Your Business Card (Christina Wallace) + #
The Power of Habit: Why We Do What We Do in Life and Business (Charles Duhigg) +
The Subtle Art of Not Giving a F*ck: A Counterintuitive Approach to Living a Good Life (Mark Manson) +
What the Heck is EOS?  A Complete Guide for Employees in Companies Running EOS (Gino Wickman and Tom Bouwer) +
Make 2023 your most productive year yet! #bestof2022 #readinglist #productivity @lvanderkam, @AnnieDuke, @RanjayGulati, @fortelabs, Madeleine Dore, @johannhari101, @JonMalesic, Britt Frank, @ayeletfishbach https://t.co/GoO8B74sgf

— Next Big Idea Club (@NextBigIdeaClub) December 12, 2022
2022
"Getting Things Done" by @gtdguy (re-reading)

— Deb Lee (@DAllisonLee) December 9, 2022
So worth the re-read! Nice pick. 😊

— Literati (@literati) December 9, 2022
2021
2020
Watch #TheFunHabit author and narrator #MikeRucker (@performbetter) discuss the importance of making time for fun! Learn more: https://t.co/nhCn2Ok4OG CC:@AtriaBooks pic.twitter.com/369qpZ7h5e

— Simon & Schuster Audio (@SimonAudio) January 3, 2023
Some long time ago
7 Habits of Highly Effective People (Stephen Covey) !
Getting Things Done: The Art of Stress-Free Productivity (David Allen) !
Goals: Setting And Achieving Them On Schedule (Zig Ziglar)
Good to Great: Why Some Companies Make the Leap and Others Don't (Jim Collins)
Gung Ho! Turn On The People in Any Organization (Ken Blanchard, Sheldon Bowles)
How to Win Friends and Influence People (Dale Carnegie) !
Leadership and the One Minute Manager (Ken Blanchard, Patricia Zigarmi, Drea Zigarmi)
Let Your Life Speak: Listening to the Voice of Vocation (Parker J. Palmer)
Making Work Work: New Strategies for Surviving and Thriving at the Office (Julie Morgenstern)
Organizing from the Inside Out, Second Edition: The Foolproof System For Organizing Your Home, Your Office and Your Life (Julie Morgenstern)
Taming the Paper Tiger at Home (Barbara Hemphill)
The E-Myth Revisited: Why Most Small Businesses Don't Work and What to Do About It (Michael E. Gerber)
The Hamster Revolution: How to Manage Your Email Before It Manages You (Mike Song , Vicki Halsey, Tim Burress)
The Motivation Manifesto: 9 Declarations to Claim Your Personal Power (Brendon Bruchard) #
The One Minute Manager (Kenneth Blanchard, Ph.D., Spencer Johnson, M.D.)
The One Minute Manager Meets the Monkey (Kenneth Blanchard, William Oncken, Jr., Hal Burrows)
2023 bookish planners and reading trackers to keep your reading life in check this year: https://t.co/GNuHzXZ9hH

— Book Riot (@BookRiot) January 6, 2023