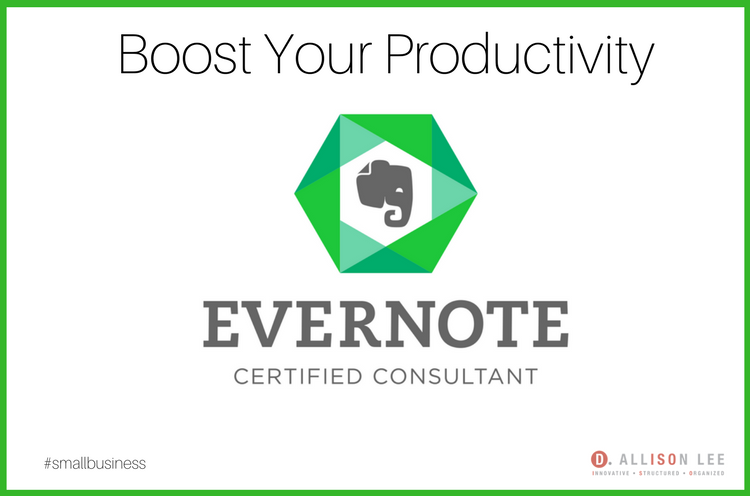 What Can an Evernote Certified Consultant do For You?
Update: Evernote has evolved and since this post was published. You may find that some Evernote apps have been removed or are no longer supported. You'll also find that Evernote Business (referral link) has been enhanced and is still an excellent productivity tool for teams.
Do you know what an Evernote Certified Consultant is? I do! As matter of fact, I'm now the proud owner of that title.
Along with several other professionals, I recently completed an intense training program hosted by Evernote. This means that my new certification gives me specific knowledge and expertise to help small businesses successfully implement Evernote Business in their companies (but more on that later).
What is Evernote?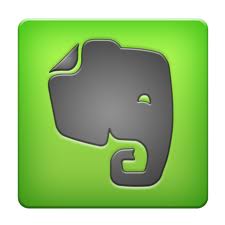 I often think that everybody knows about Evernote. If you're reading this post, you probably have already heard about Evernote, right? And, if you read this blog, you've seen some blog posts about it (like this one and this one).
But, because I've used it for so long (11+ years!), I forget that some people may not know about it. I recently saw a comment on an online forum from someone who asked what it was all about. So, in a nutshell, Evernote is both a downloadable software (surprised?) and mobile and web application that allows you to get stuff done.
Stuff like:
From inspiration to achievement, Evernote is where your work takes shape.
But, there's more to Evernote, too, besides the Basic, Premium, and Business versions. There's an entire suite of products that will fill just about any need you have:
If you want even more functionality, visit the AppCenter and you'll find an abundance of apps that integrate with Evernote. Then, stop by the Evernote Market to see a nice collection of Evernote-y products that are intended to help you better navigate everyday life.
What is Evernote Business?
So, what's so different about Evernote Business? It is geared toward helping you stay connected to your team and it allows each team member to easily collaborate with each other on business projects.
It's not only the central hub for your employees to work together, but it's also the one main spot to keep and find your business documents. You'll be able to easily find what you need when you need it by simply typing in a keyword.
Evernote Business is a collaborative hub for your team to brainstorm, develop, and launch projects with business notebooks.
Learn more about Evernote Business (referral link).
Features and Benefits of Evernote Business
If one member of your team heads off to greener pastures, that's okay. The business documents remain with the company. As the company owner, this will give you peace of mind and team members who were collaborating on joint projects won't lose any documentation. Win, yes?
As team members view or create content, Evernote Business will automatically search their accounts as well as their co-workers' notebooks for related content (as long as they have been granted access). Two words: time saver.
Evernote Business is, of course, portable. This means that everyone can access their account and important data from any device, no matter where they are.
The monthly upload for Evernote Business is greater than the free and premium versions. Get 10 GB of monthly uploads with Evernote Business.
An Evernote Certified Consultant Can Help Your Small Business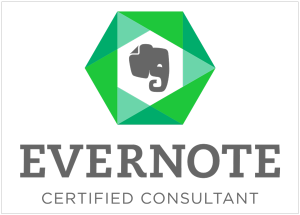 Even for people who are familiar with Evernote and use it both personally and professionally, it's probably fair to say that are still some folks who are not taking advantage of all the features this versatile and robust application has to offer.
Evernote Certified Consultants are recognized Evernote experts. They've completed comprehensive Evernote Business training and stay in the know with the latest updates.
This is where an Evernote Certified Consultant comes in because they can help companies:
Find the best Evernote product/service for their specific situation
Determine and create workflows (or systems) tailored for their company
Successfully deploy Evernote
Learn the ins and outs and make adjustments with ongoing training and support
The means that your company will have its own consultant to help you get Evernote Business set up and running quickly. And, the bonus will be improved productivity for you and your team.
Have a question about Evernote? Curious about how you can implement Evernote Business in your company? Drop me a line.
Pssst! If you're currently using Evernote Business, how has it helped your team to be more produtive? Share in the comments!