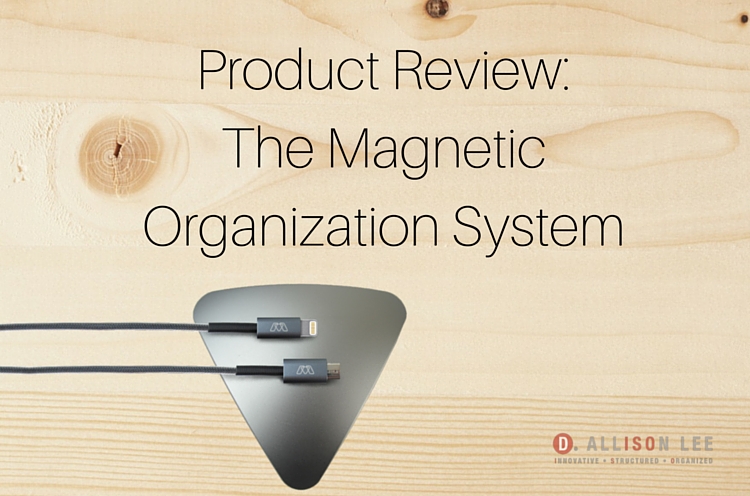 Product Review: The Magnetic Organization System
This post was updated on December 1, 2015. The makers of MOS have expanded their product offerings.
It's amazing how many cords we have in our lives, and inevitably, the one we need is usually hiding somewhere on the floor behind our desk.
If you're as klutzy like me, you wind up risking a head injury crawling underneath your desk to retrieve the pesky cord.
Enter the Magnetic Organization System (MOS).*

This product began life as a Kickstarter project, and it's amazingly simple. It's one of those ideas that when you see it, you think, "Oh, of course." It makes me wish I had thought of it.
What I Like
The MOS is a cute, curvy triangle with a powerful magnet inside. It is available in three colors (black, white, and aluminum) and comes with three rubbery magnetic ties that you can lock around the end of your cords. The cords then stay magnetized to the MOS for easy access.
Cords will attach to the MOS without the ties, but using the ties makes it a more solid attachment.
Remove the clear sticker on the bottom of the MOS, and it will stick to your desk like a suction cup. A wall mount sticker lets you do what the name implies – mount it to your wall, but I could see some people using it in their work cubicle wall or underneath their desk to keep their cords from living on the floor.
You can use MOS as a charging station for your phone and tablet. Or, place it on your desk to keep your printer, scanner, and other cables.

Image credits: MOSOrganizer.com
What I Would Change
My only complaint is that I wish it was a little bigger for a few more cords. What can I say? I love my technology.  I would need two of them – one for my iPhone, iPad, and iPad keyboard chargers.  The second would be on my desk to manage my printer, scanner, and other "accessories" for my laptop.
Cost and Where to Buy
Your purchase price for the MOS varies based on the color you want. You can expect to pay $23.99 for the black or the white unit and $39.99 for the aluminum model. Buy it online at Amazon, BiteMyApple.co, Sewell, or in Apple Stores. Btw, you can also buy the MOS Magnetic Cable Ties (affiliate link) separately on Amazon for $5.95.
If you're using the MOS, I'd love to hear what you think about it, so leave a comment below.




*Disclosure: A free MOS was sent to Deb who then passed it on to me to check out. My review was not directed in any way by Deb or the creators of the product nor was I compensated for reviewing it.