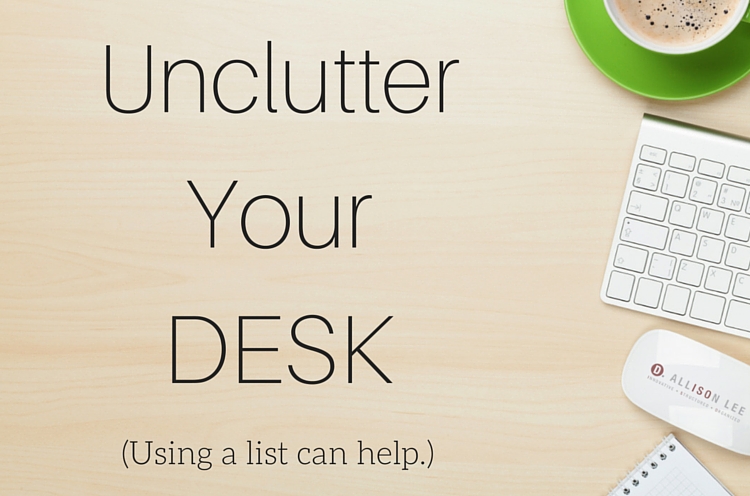 Quick Tip: Two Ways a List Can Help You Declutter Your Desk
*This post was updated September 10, 2015.
Recently, I wrote a guest post for Eych2.com and shared five creative strategies you can use to unclutter your desk. And, today I'm sharing a sixth thing you can do keep desk clutter to a minimum.
Did you know that a simple list can also help you bring a little order to your workspace and help you declutter your desk?

Two Ways a List Can Help You Declutter Your Desk
1. To-Do List.
Make a list of all the things you need to do to clear your desk at the end of each day. Include things like:
Wipe desk and clean up spills
Remove trash and recyclables
Organize cables and wires
Store pens, markers, and other writing tools in a pencil cup (or desk drawer)
Place priority files in view (e.g., in a desktop organizer or file holder)
Put non-priority files away
Take out your checklist 15-30 minutes before you leave your office (or will stop working in your home office). Then, check off each action on your list so that your desk is work ready and decluttered for the next day.
2. Stop Doing List.
You can also make a "stop list" for things you should stop doing so that your desk can stay (mostly) clear. That way, you'll have less cleaning up and organizing to do.
Here are some things you should stop doing:
Mixing personal and business files together
Leaving out confidential files
Leaving receipts strewn about
Keeping printer paper and other non-essential items on your desk
Letting trash pile up
Eating at your desk
Have a look at your stop doing list periodically throughout the day to help keep your desk clear so that you don't have a big pile up at the end of the day. Use the list as a reminder, especially on days when things are a bit hectic.
Remember, if your desk is mostly organized during the day, you'll have a better chance of getting stuff done!
What do you do to keep your desk clutter-free? Please share in the comments.