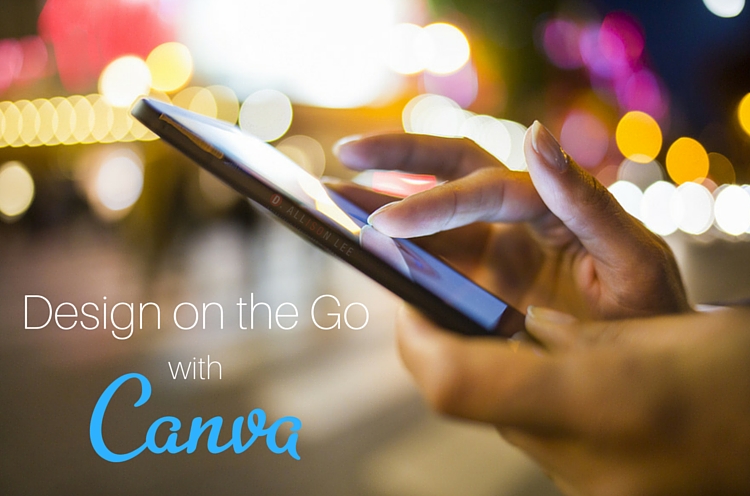 Canva for iPhone is Here!
No one was more tickled than I was when I heard that Canva for iPhone is now available! Well, perhaps there were a few gazillion Canva fanatics who felt the same. Oh, and don't worry, Android peeps. Canva for your device is coming soon.
So, what's all the excitement about? Well, first, here's a brief refresher about this simple yet powerful image editing tool. Already love Canva? Scroll down to see what you can do with the new iPhone app.

What is Canva?
Unless someone else does your graphics for you, you probably have heard about Canva. It's a super easy to use DIY design and editing tool that can make you look like a graphics pro.
In the past, bloggers and small business peeps would  have to get all their graphics needs met by a Photoshop expert, or they would take on the challenge of learning how to use it and other tools, like Gimp.
Why You'll Fall in Love with Canva
While Photoshop, Gimp, and other tech tools are still great to use, there are more than a few reasons why you'll probably fall in love with Canva like I have.
Canva is so simple and intuitive that you can likely jump right into designing straight away. Canva also offers free templates that you can use on social media and of course, in your blog posts.
And, if you still need help, check out Canva's Design School. You'll find lots of tutorials and advice about how to create eye-catching graphics.
Not sure what images you want to use or are afraid you'll break the bank on stock photos? Canva's got you covered there, too. You can purchase images for $1 per photo or $10 for 11 photos (single-use license). And, now you can also purchase multi-use licenses ($10).
Canva for iPhone Features
Okay, let's get right to it. Here are some of the cool Canva for iPhone features.
1. Access to all your designs. All those awesome designs you created? Well, they're all at your fingertips with the new Canva iPhone app. You can edit and share them right from the app. If you haven't already guessed, this means that your designs are synced across all your devices.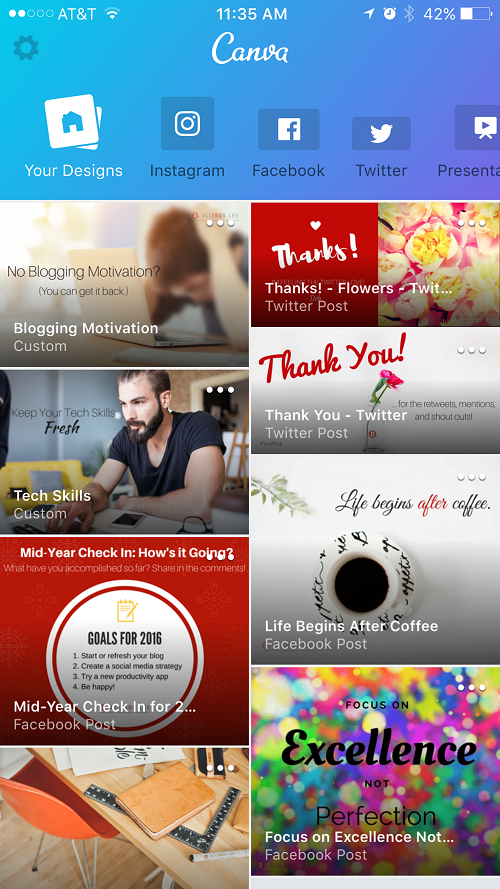 2. Create new designs. Want to make a new graphic? The new iPhone app comes with several templates (i.e., layouts) you can use to create new designs.
In the graphic above, you'll see them listed across the top of the screen next  to "Your Designs": Instagram, Facebook, Twitter, Presentation, Facebook Cover, Pinterest, Poster, Blog Graphic, Card, Youtube Art, Flyer, and Invitation.
What else can you do with your new graphics? You can add:
Images (e.g., you can replace template images with your own or take photos right inside the app!)
Filters
Multiple pages to a single design
Design elements (e.g., icons, stickers, stamps, and emojis)
Text overlays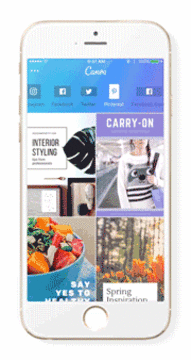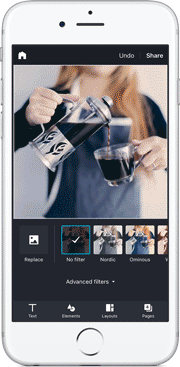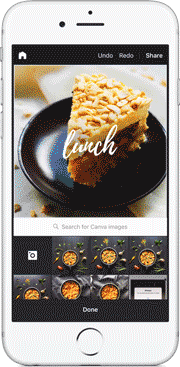 3.
Create presentations.
 Do you have an important talk coming up and need to create or edit your presentation while you're out and about? This new Canva mobile app lets you do just that.
4.
Share anywhere.
No need to save your fabulous graphics to your phone first and then share it to your favorite social media sites. You can share
directly
from Canva's iPhone app to Instagram, Facebook, Twitter, and more. Time saver!
The Best Thing About Canva for iPhone
What's the best thing about Canva's mobile app? With all those great features right in the palm of your hand, you can share cool graphics and images in real time, like when you're …
Attending a conference and want to share an amazing quotable
Working on a cool project and want to share a behind the scenes pic
Inspired and want to make graphics for that "in the moment" blog post or social share
Live reporting an event (kinda like live tweeting but with visuals!)
Traveling and want to share a social media update or share graphics with your team back at the office
Working on a presentation and want to make last minute changes
In the mood to be creative! (think selfie for you and your fans!)
Ready to play around with Canva for iPhone? Download it here. Already using it? What's your favorite feature? Share in the comments.