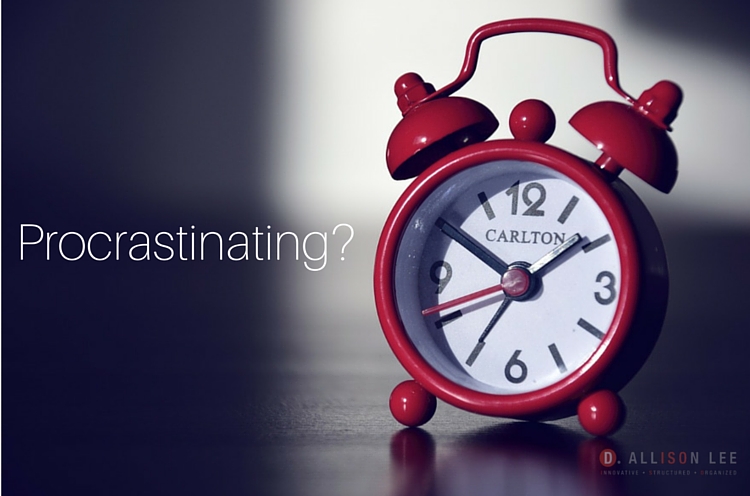 Stop Procrastinating: 5 Strategies to Get You Started
Everyone that I know, including myself, finds themselves procrastinating from time to time. Does that sound like you, too?
Picture this scenario. It's Monday morning …
It's time to get focused on the week's priorities as you settle in and down your first cup of coffee (or beverage of choice). Like some Mondays, this one is a little complicated. Add some procrastination to the mix and it's probably even more challenging to get the work week off to a productive start.
Which task to tackle first? As you scan your to do list, there might be one excuse after another for not starting many of the higher priority tasks on the list. Since you can't seem to identify a good place to start, you probably avoid the issue — at least temporarily — and get a coffee refill.
It is now 30 minutes into the work day and you are still floundering. This isn't a good way to start the day nor the begin the week.
Does that sound like your typical Monday?
Fear of tackling a task can lead to procrastination. But, you can battle back!
Click To Tweet
If you said yes, you are not alone. And, if you are prone to procrastination, like many of us, there is a tendency to put off or delay any number or types of tasks. You could be avoiding a particular activity like drafting the quarterly marketing report.
The task could involve charting some new or unfamiliar territory like researching new technology solutions for your company. Fear of the unknown is likely causing the procrastination.  It could be a task that you dislike doing, like organizing the files.
The good news is that by changing existing habits and creating some new ones, we can all more effectively manage the tendency to procrastinate. There are some strategies that I have found to be extremely helpful when I find myself in procrastination mode – yes even professional organizers procrastinate from time to time.
Stop Procrastinating: 5 Strategies to Get You Started
1. Take small steps
If the task is a large one, divide it into a series of smaller tasks that will take 30-60 minutes each to complete and tackle them in a systematic manner over a period of time.  Create a checklist detailing each of these small steps and check them off as they are completed.
2.  Schedule time
Start by setting a deadline for completing the task or project. As a Professional Organizer, I have seen firsthand that many clients procrastinate simply because they have not set concrete deadlines by which to complete their tasks.
Once you have a deadline in place, assess the amount of time that will be needed to get the task or project completed. Then, block out time on your calendar over the coming weeks for those specific tasks.
If the task is one that will require ongoing attention, like filing and organizing paper clutter, block off multiple times per week to address it.
3.  Work during your "prime time"
It is much easier to start that dreaded task when your energy level is high. Become familiar, if you aren't already, with your "prime time." For some, it is first thing in the morning and others are more energized later in the day. Use this knowledge to your advantage and schedule your day accordingly.
Morning person? Night owl? Work on important tasks when your energy level is high. #productivity
Click To Tweet
4.  Acknowledge your successes
It can be extremely motivating to have a "prize" waiting for you at the completion of a task. This is especially true for tasks you have put off doing for a long time. Once you have completed that day's work on the task, acknowledge your accomplishment with a trip to Starbuck's or spend some time reading your favorite magazine.
5.  Start with easy tasks
A trick I have learned from my experience as a professional organizer is to start with a simple task to ease into your to do list. If you are having a difficult time getting started on that day's top priority, find small, simple task to do that will get you going in the right direction.
For example, if the task that you are putting off doing is making ten prospecting calls, you could get into the calling mindset by returning calls to two of your long time colleagues, and then segue to making the ten calls.
Apply one or a combination of these tips and you will not only be able to better manage your procrastination, you will also likely reduce your stress level and boost your productivity.