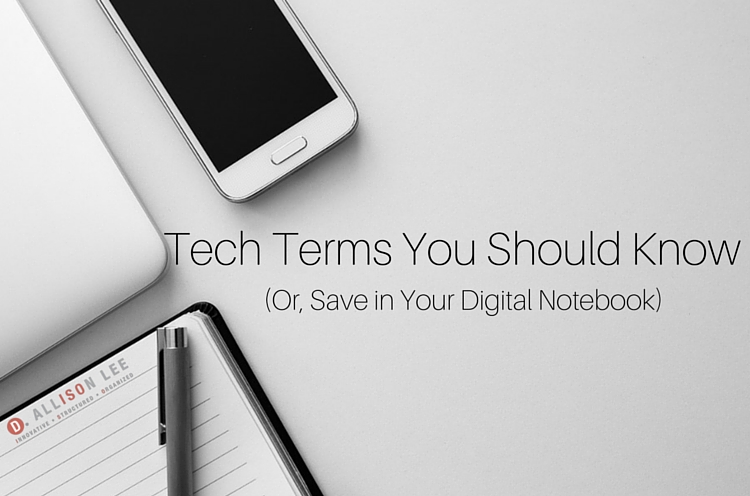 Basic Tech Terms You Should Know to Handle Everyday Life
With so many technological terms being thrown around these days, I thought I'd create a glossary of basic tech terms that can serve as a reference guide. I was also motivated to write this post because of a recent conversation with my husband.

Recently, my husband received an alert from our wireless carrier that he was close to using his data allotment for the month. I told him he had to make sure he was connected to WiFi whenever he was at home or at work so that he wouldn't go over the data limit provided by our cellular carrier.
He looked at me with a blank face and told me he didn't know what I was talking about. And, I know he's not alone.
So, I hope this glossary of basic tech terms clears up any questions you may have. Please feel free to leave questions or comments in the box at the bottom of the page. Happy reading!
Basic Tech Terms You Should Know
1. WiFi
WiFi refers to the wireless Internet connection many people use at home and at work. You know when you walk into a Starbucks and see a sign that says, "Wifi available," that means they have made their wireless Internet connection available to you or anyone that walks in with a laptop, smart phone, or tablet.
2. 3G, 4G, 4G, LTE
These terms refer to your smart phone and how fast they can navigate the Internet. 3G stands for "3rd generation," 4G stands for "4th generation" and 4G LTE stands for "4th generation long term evolution." What you need to remember is that 4G LTE is the fastest mobile data experience available at this point. If a 5G comes out, it will stand for __________________________ (fill in the blank).
3. Sync
If you want to have the same apps on your smart phone and your computer or the same appointments on your phone's calendar and your computer's calendar applications, then you need to sync the two devices. Think of syncing like sharing, whereas backing up is copying and storing.
4. Back Up
Backing up means you are making a copy of something and saving it on another device or platform. When you back up your smart phone, the back up will contain a copy of ALL the data – not just songs and calendar appointments but also apps, settings, and more.

[ctt title="Do you know basic tech terms to help you navigate every day life? Save this post to your digital notebook now!" tweet="Do you know basic tech terms to help you navigate every day life? Save this list to your digital notebook now: http://ctt.ec/MHzcX+ " coverup="MHzcX"]
5. URL
URL stands for "uniform resource locator." Simply put, it's the address of a web page. For example, http://www.the-organizing-boutique.com is the address of my website's home page. The next time someone asks for the URL of a website or web page, you'll know that it's the string of letters in the address bar at the top of your browser starting with "http://www."
6. Internet Browser
An Internet browser is a computer program that allows you to surf the Internet. Remember way back when Netscape existed? Netscape was an Internet browser. Nowadays, we have browsers like Internet Explorer, Firefox, Safari, and Google Chrome.
7. Hyperlink
"What is a hyperlink and how do I include it in an email?" That was a question I got recently from my mom and thought it would be good to include here. A hyperlink is text that you can click on that will bring you to a web page.
In order to include a hyperlink in an email, the first thing you need to do is to copy the web address (or URL as you learned above). Then, in your email program, compose a new email and you should see an icon in your menu bar that looks like a chain link. Click on that, and follow the prompts, one of which is to paste the web address in.
For instructions specific to the email program you use, utilize a search engine like Google. Type in something like, "how to create a hyperlink in Gmail."
8. Search Engine
A search engine is a website that allows users to search for things on the Internet. Examples of search engines are Google, Bing, and Yahoo.
9. Apps
"Apps" is a term that is short for "applications," and in present day, it refers to applications used on smart phones. For example, have you heard of Evernote or Words With Friends? Those are apps that can be downloaded for free to your smart phone. Not all apps are free and many can help you to stay productive.
Now that you know what all these words mean, practice using each one in a sentence. For example:
I opened my Internet browser, Firefox, to use the search engine, Google, to find more information on how to create a hyperlink in an email.
Did you get all that?!
Knowing these basic tech terms will help you during every day situations and conversations. Save them in Evernote, Google Drive, or your preferred digital notebok so you can easily refer back to them when you need to. And, again feel free to leave a comment below if you have questions.