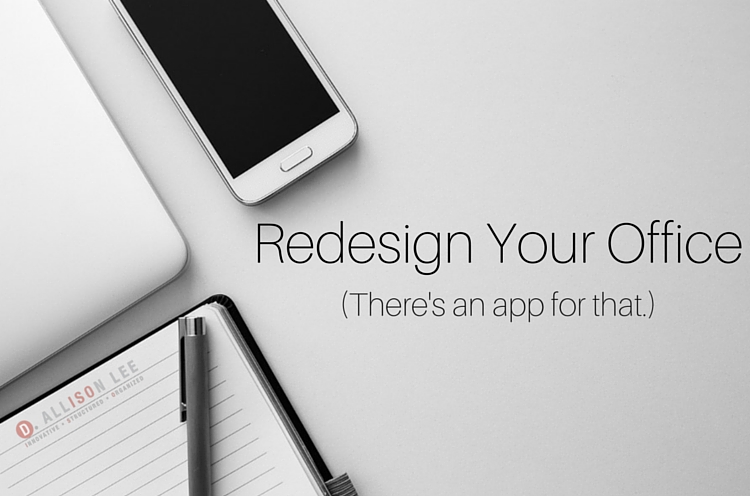 Redesign Your Office With SnapShop Showroom App
This post was updated on May 2, 2016.
Are you bored with your office layout? Does your space need to be rearranged to accommodate clients or to allow for productive meetings? Trying to figure out if that desk you've been eyeing will fit perfectly in your office? Ready for a big overhaul or redesign? There's an app for that!

If you're thinking of re-organizing or redesigning your most used spaces, you might want to try out the SnapShop Showroom iOS app. Don't worry, Android peeps. There's a similar app you can check out: Homestyler Interior Design.
Visualize furniture in your own home using augmented reality.
Instead of trying to imagine what you "new" room will look like, the Snapshop Showroom app gives you a real visual of your space using furniture selections from popular stores like IKEA, Crate and Barrel, and Pier 1.
The app uses the camera on your phone to give you a virtual peek at what your re-designed room may end up looking like once you've placed all the pieces in.
How to Redesign With SnapShop Showroom
According to the developer, here's an example of how it works:
Walk into your living room and launch SnapShop.
Browse our always growing furniture catalog and choose a category like sofas. Pick your favorite sofa from a list of images which brings up your iPhone camera with an overlay of the sofa so you can point and see the sofa where you'd like it to go (iPod Touch or iPad users can load a picture from their camera roll).
Use your fingers to position and rotate the sofa in the right spot and take a photo. It really looks like the sofa is in your living room!
Tap the screen to see a menu of options.
Use the back and forward buttons to flip through different models and colors.
Save the photo or email it to yourself and friends to get their opinion. The email links to the brand's website so you can do more research later.
Tap the shopping cart button to visit the retailers website without leaving the SnapShop app.
Saving the photo for later (step #6) seems like a really helpful feature, especially if you're not sure which piece of furniture you want. This will give you some time to think it over before making a final decision.
Btw, you can also upload your pics to Evernote or throw it in Dropbox (referral link). See, you've got options. Plus, it's a time saver since you can purchase the furniture you want directly from this app (step #7).
I know what you're thinking — who wants to buy a chair or sofa without jumping up and down sitting on it first, right? I can't argue there. That is a possible drawback, especially if you're not familiar with a particular brand.
But, if nothing else, you'll at least get to see what your space could look like. Test it out and let me know what you think.
Source: Trendhunter.com