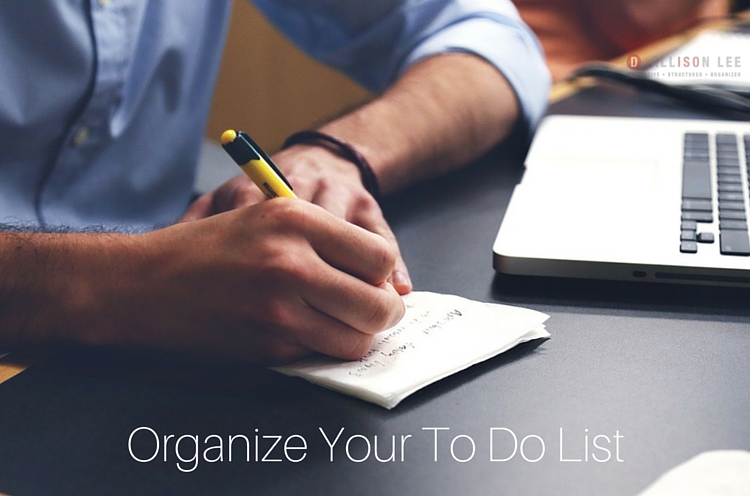 3 Simple Reasons Why You Should Maintain Your To Do List
How's your to do list working for you?
Now's the perfect time to re-think the process that is being used for managing your to do  list as there are probably an ever increasing number of tasks that need to be addressed in both your professional and personal lives.

There may be a new project to be started at work, plans to be made for the upcoming family trip to visit your parents, and re-storing and restocking your home now that the holidays are officially over.  Everywhere we turn there will probably be another item to add to the growing task list which will make organizing your to do list potentially a project all by itself!
The real challenge is capturing all these tasks in one place and then managing  your list.  You may believe that you can easily remember what needs to be done and might not see the need to start making lists.  But, I am a firm believer in organizing your to do list and then maintaining the list.
Three Reasons You Should Maintain Your To Do List
1. Have less stress
We all lead extremely busy lives and likely don't want to add to our stress levels. By relying on your memory to address all that needs to be done is tempting fate. There is always that one really important, time sensitive task that needs to be done that will keep popping in/out of your mind … most likely at 3 AM when there is nothing that you can do about it!
By noting what needs to be done — either on paper or by using an app — you will be able to clear your mind so that you can focus on the actual mechanics of getting the tasks done.
2. No more scraps of paper
Keeping an organized to do list of all those tasks you need to complete, whether they be mundane like stopping at the dry cleaner or more significant like setting your first quarter goals, will put you on the path to getting the essential tasks addressed.
The key to success is actually creating a list so it doesn't really matter whether you use a paper pad or an app.  Jotting down what needs to be done on old receipts, takeout menus, or today's newspaper may provide a temporary feeling of relief.
However, when there is another scrap of paper containing a notation of something that you should be doing every place you look , it will soon become abundantly clear that this approach for maintaining your to do list is not effective.
3. Have more control
If you collect all of your to do's in one place, you will be able to see the big picture and, after a very quick review of the list, you'll be able to make informed decisions about each day's priorities. By doing this, you can ensure that all of the key deadlines will be met. Reviewing the list provides an opportunity to include additional tasks that may have been overlooked so that your task list is as complete as possible.
Keeping a master to do list to track your current and future tasks will prove to be great tool in improving productivity in 2014 There's nothing more satisfying than crossing a completed task off the list!