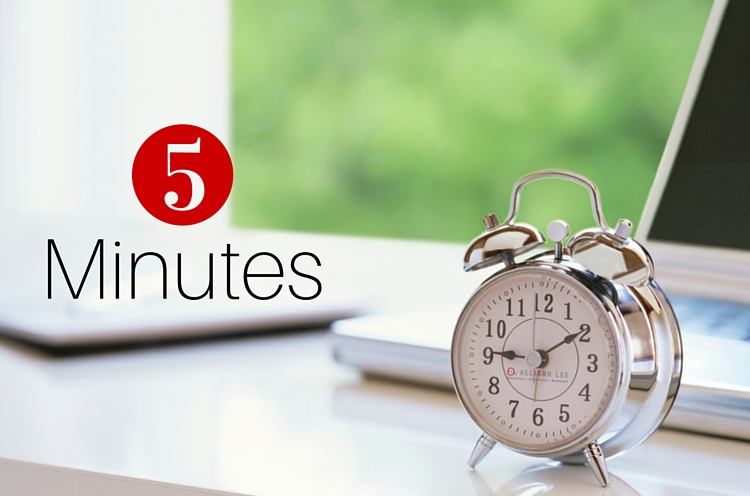 5-Minute Organizing Challenge: Time Management
It is time for this month's 5-Minute Organizing Challenge! What can you do in 5 minutes to get your life more organized? Did you know that February is National Time Management Month? That means the theme of this month's challenge is all about how you can manage your time effectively.

5-Minute Organizing Challenge: Time Management
Here are a few tasks that will each take as little as five minutes to complete.
1. Add meetings to your calendar. Check your digital or paper-based calendar system and make sure all the appointments and meetings for the next month have been recorded from e-mails, post-it notes, and voicemails.
2.  Set up alerts. Set reminders on your computer or smartphone for appointments, birthdays, financial deadlines, etc. You can set the reminder for the day before, the beginning of day a task is due, or customize it to your preference. Reminders can also help you stop procrastination in its tracks!
3. Organize your to do list. Once you have your task lists compiled, separate them thematically and create new ones. Why? If you have just one basic "To Do" or "To Buy" list, things can often get overlooked.
Here are some ways you can "break up" your to do list:
Top three things to do today
People to contact
Groceries to purchase
Supplies to purchase
Clients to call
Invoices to send
4. Focus on important tasks. Make sure you prioritize just two or three of the most important tasks you need to accomplish each day. Identify them and schedule specific times to work on them. This will help you to avoid getting caught up in low priority tasks all day. Start this process today!
5. Make time for fun. Schedule something each day that you love to do. If you do something you love for just a few minutes, you will boost your energy level. So take a walk around the block, read a chapter of a book, or sing along with your favorite song. What do you have to lose…except built up stress?
These are just a few small challenges you can use to manage your time effectively. What other things do you do that help you manage your time better? Share your tips in the comments below.