A couple of months ago, I discovered StayFocusd Google Chrome extension.  It stops you from surfing the web when you really should be working on that important project.  Not to be out done, Firefox has a few add-ons that will give you – and your ability to be productive – a fighting a chance.
Block time-wasting sites with LeechBlock
Like StayFocusd, this add-on lets you capture more productivity minutes by blocking specific sites (up to 6) that suck your time.  Decide how long you need to block a certain site or use the "lockdown" feature to immediately block a website when you realize you need to get back to work.  LeechBlock also lets you track how much time you spend browsing the net. Learn more.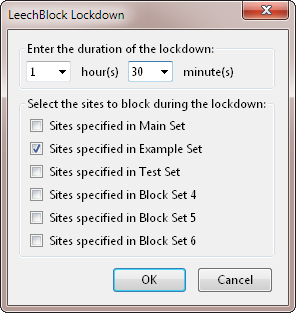 Track how you spend your time online with RescueTime
Think you're getting things done in an efficient way?  Just a few minutes on Facebook and Twitter, right? Put your money where your mouth is and get the stats to back that up with RescueTime.  It's there lurking and monitoring how long you stay on a page and tracks the movement of your mouse and keyboard.  How does it know if you're being productive? Simply assign a productivity score to your most frequently visited websites and you'll get a lovely graph that details your activities on the web. Learn more.
Stick to your time block with Simple Timer
If you like to work in 30-60 blocks of time, Simple Timer will come in handy. It will help you to stay on task for a specified time frame and let you know when you're free to move on to something else, like lunch or an important phone call. It's both a clock and a timer that can be configured to count up from zero or down from any time.  When time is up, you'll get a visual (pop up) or audio alert and you can view the event log of all your completed activities. Learn More.